Vincent W. & Janet M. Carpenter Music Director

Anne Harrigan, Music Director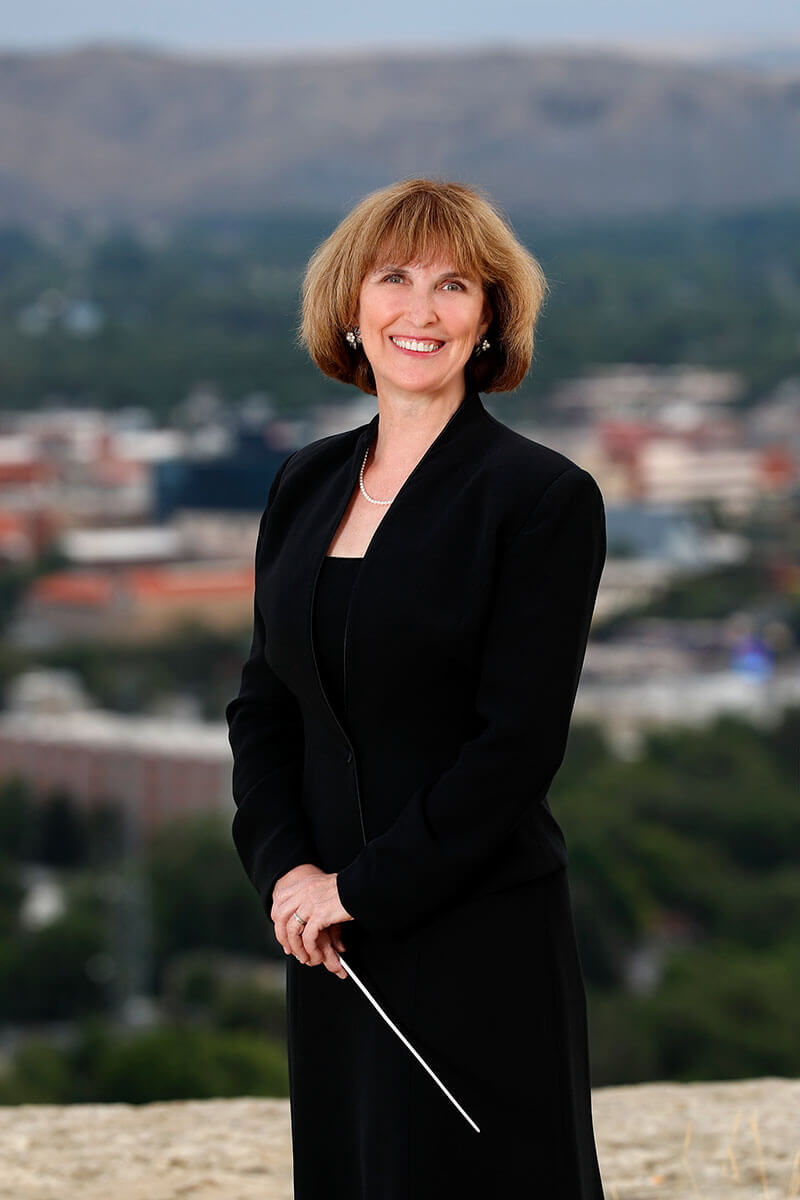 Anne Harrigan has earned a reputation throughout the country for her innovative programming, commitment to artistic excellence, and community engagement.
Her musical career began at age 19, when she founded the Johns Hopkins University Chamber Orchestra while still a violin student at the Peabody Institute of Music. She received her master's in conducting at Yale University under the tutelage of Otto Werner Mueller. In 1983, Ms. Harrigan formed the Baltimore Chamber Orchestra and developed it from a fledgling organization to one of the finest chamber orchestras in the country.
As music director of symphonies in Billings, Montana and Battle Creek, Michigan, and the artistic director of the Music Center of South Central Michigan, Anne's commitment to innovation in programming has resulted in groundbreaking multi-disciplinary programs that have attracted national attention.
In October 2021, the Billings Symphony premiered Buffalo Crossing: A Northern Cheyenne Experience, featuring 14 Indigenous artists from tribes across Montana sharing dance, drumming, and traditional storytelling paired with symphonic works. The program included an original work by composer Ilse-Mari Lee, The Yellowstone Suite, evoking the beauty, serenity, and timelessness of Yellowstone National Park. This world premiere was the first step in a multi-year partnership with the Northern Cheyenne and Crow nations.
Moved by the social unrest of the early pandemic and wanting to create a dialogue on racism in the U.S., Harrigan commissioned Hold on America, Hold On!, which made its March 2022 world premiere in Battle Creek, Michigan. The resulting composition by James Lee for orchestra included spoken work performances and chronicled the stories of Emmet Till and the Tulsa Massacre along with contemporary voices of Black Americans sharing their lived experiences.
In the 2022–2023 season, Anne will facilitate the commission of American Veteran: A Story Without Words, a collaborative project between photographer and veteran Marcus "Doc" Cravens and Montana composer Ilse-Mari Lee. Encouraging new bonds between veterans and their communities, the work will feature Tage Larsen on the trumpet and Katharina Wincor as a guest conductor.
Anne has centered her work on issues of diversity, equity, and inclusion and has also focused on non-traditional casting of traditional musicals such as Guys and Dolls. She is active in her communities discussing social justice issues and engaging arts patrons in the conversations via community forums, onstage discussions, and working closely with the schools to provide content for them and opportunities for engagement with musical content during the COVID-19 shutdown and beyond.
Anne's interactive, multi-disciplinary family concert, Colors of the World, produced for television by Maryland Public Television, was recognized with an Emmy award in 1998. Other projects include the U.S. premiere of Shaun Davey's A Brendan Voyage, a concerto for uilleann pipes and orchestra with the renowned piper Christopher Layer; collaborations with aerialist Alexander Streltsov; silent movies with live orchestra; live video projections of performances; Peter Boyer's Ellis Island: Dream of America, a chronicle of the journey of seven immigrants through Ellis Island; and collaborations with late Montana photographer, Michael Sample.
She resides in Rockford, Michigan with her husband, Eric Hudson, and dogs Sammy and Rory. When not conducting, she enjoys playing traditional Irish music and aerial silks.