Classic Series
Country Christmas
Saturday
Dec 18, 2021
7:30 PM
Sunday
Dec 19, 2021
2:00 PM
Alberta Bair Theater
$18-$63
Celia Woodsmith vocals
Clinton Curtis vocals
Christopher Grant vocals
Celebrate Christmas in true Montana style with a country twist on your holiday favorites. Featuring the return of guest artists Celia Woodsmith, Clinton Curtis, and Christopher Grant!
COUNTRY CHRISTMAS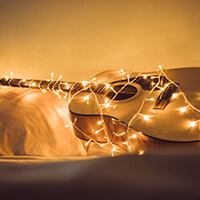 "Country music and Christmas music are deeply entwined," writes David Cantwell for Rolling Stone Magazine. "For starters, both genres foreground family and tradition, novelty and loss, and both take it on faith that we probably aren't ever going to get everything on our Christmas list." Cantwell goes on to argue that Gene Autry's eight-song album, Merry Christmas with Gene Autry, from 1950, started the whole annual (and lucrative) Christmas record subgenre. Whereas Bing Crosby's "White Christmas" and "I'll Be Home for Christmas" were War-era wistful and adult, Autry's later string of Christmas hits, including Here Comes Santa Claus (Down Santa Claus Lane), Rudolph the Red-Nosed Reindeer, and Frosty the Snowman, were peace-time playful. Even today, their jaunty, low-key western swing still charm.
Those Nashville Sound classics we grew up listening to—Rockin' Around the Christmas Tree, Jingle Bell Rock, Pretty Paper, and Blue Christmas, to name a paltry few—remain in heavy rotation on every now-ubiquitous all-Christmas radio station which pops up during this special time of year. While one can't forget the classic holiday hits outside of Country music, when it comes to the best versions, well, they all seem to come with a little twang.
CELIA WOODSMITH | VOCALS
Celia Woodsmith is a Grammy Nominated performer, vocalist, and songwriter. Influenced by artists such as John Prine, Janis Joplin, Patsy Cline, and Mahalia Jackson she has molded her own vocal style that can be described as "one of a kind: gritty, muscular, folksy and intimate sometimes all at once" (Bluegrass Situation). A fixture of the New England roots scene, she has been hailed by the Boston Globe as "Unvarnished and intimate (…) but then sounds like she's about to part the Dead Sea".
In the last 10 years, Celia has released six albums with Nashville-based string band Della Mae. In 2014 Della Mae was nominated for a Best Bluegrass Album GRAMMY for their record "This World Oft Can Be." Their most recent album "Headlight" has been described as "…powerful writing, soaring vocals, and moving musical unity — challenge us, energize us, and touch us as they light the way. This is an album on which you can feel the emotions of the group in each song as they evoke anger, sadness, hopelessness, and joy". (No Depression)
The all-female Della Mae has performed in 19 countries with the US Department of State's cultural diplomacy program "American Music Abroad". Woodsmith spoke about her experiences with travel and music at TEDx Piscataqua River in Portsmouth, NH in a talk called "A Soft Drink and a Song in the Hills of Pakistan".
In 2016 Woodsmith took a hiatus from touring to write, listen, and reflect on her years on the road. With her husband, she road-biked 1.700 miles from Geneva, Switzerland to Vlorë, Albania. In that time off she was able to write and record for her debut solo record "Cast Iron Shoes". The all-original album combines raw, roots-rock with heart-searing songs like "Sicily" which paints a solemn picture of the global refugee crisis.
In March 2020, Woodsmith found herself quarantined at her home in Kittery, ME. Off the road for the first time in 15 years, she has been focusing on writing, learning, teaching, and rejuvenating her relationship with the outdoors.
Clinton Curtis | Vocals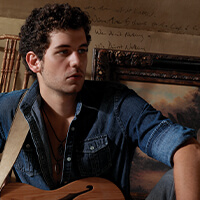 Clinton Curtis is a multi-genre singer, musician, and songwriter originally from Key West, Florida. As a choral singer he has worked with many of the world's luminary conductors and orchestras, most recently including engagements with the New York Philharmonic, Berlin Philharmonic, and San Francisco Symphony. March 2016 marked his operatic debut in Curlew River for the Mark Morris Dance Group. As a popular songwriter and frontman for The Clinton Curtis Band, he has toured internationally as a cultural ambassador with the US Department of State. He has released five original studio albums available at music.clintoncurtis.com.
Christopher Grant | Vocals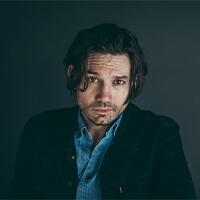 Christopher Ryan Grant is an actor, musician, and writer based in New York City. His Broadway credits include playing Johnny Cash in Million Dollar Quarter, and multiple roles in The Iceman Cometh starring Denzel Washington. He has performed in some of the most venerated theaters in New York City and around the world including Lincoln Center, Shakespeare in the Park at the Delacorte, and the Tokyo Theatre Orb in Japan among many others. You can also see him on NBC's "The Blacklist" and CBS's "FBI: Most Wanted". As a musician, he has had the extreme pleasure and good fortune to play with some of the most legendary recording artists of all time including Jerry Lee Lewis, Little Richard, Melissa Etheridge, Dion, Ronny Hawkins, Wanda Jackson, and Asleep at the Wheel to name a few. He is thrilled to be back in Billings with Clinton and Celia after having performed with them in "Gone Country" back in 2015.