Classic Series
Spanish Nights
Saturday
Oct 9, 2021
7:30 PM
Alberta Bair Theater
$18-$63
Rafael Aguirre guitar
François López-Ferrer guest conductor
Granados Goyescas
Falla Three-Cornered Hat
Rodrigo Concierto de Aranjuez
Ginastera Estancia
The BSOC welcomes guest conductor François López-Ferrer. Our salute to extraordinary places features celebrated guitarist Rafael Aguirre performing Rodrigo's jewel for Spanish guitar, the Concierto de Aranjuez. Also, enjoy selections from Falla's Three-Cornered Hat and Ginastera's Estancia.
RAFAEL AGUIRRE | GUITAR
Rafael Aguirre is an internationally acclaimed musician whose deep understanding of music, dazzling virtuosity, and immensely diverse repertoire has taken him to 37 countries. The beginning of his extraordinary career was marked by winning thirteen first prizes at international competitions (including the Tarrega Competition and Pro Musicis, New York). He is currently one of the most celebrated guitarists worldwide.
Rafael performs regularly in prestigious venues, including Carnegie Hall in New York, Concertgebouw Amsterdam, Vienna Konzerthaus, Moscow Tchaikovsky Hall, Philharmonie am Gasteig in Munich, Hamburg Laeiszhalle and Elbphilharmonie, Palau de la Musica in Barcelona, King's Place London, Saint Petersburg Philharmonia, Cuba's National Theatre, the Hyogo Performing Arts Center (Japan) and the Seoul Arts Center (South Korea).
His debut at the Verbier Festival in Switzerland performing Rodrigo's Concierto de Aranjuez with the Verbier Chamber Orchestra was broadcast by medici.tv, and is the most viewed video on their Facebook page, which gained over 3 million views in just twelve months.
An extensive repertoire, with more than 30 concertos for guitar and orchestra has allowed him to perform with the KBS Symphony Orchestra in Korea, the Orchestre National de Lyon, Toulon Opera Symphony, Bruckner Orchester Linz, Baden-Baden Philharmonic, Thüringen Philharmonic, Pforzheim Chamber Orchestra, New Westfalia Philharmonic, Robert Schumann Philharmonie Chemnitz, Moscow New Russia, RTVE Symphony, Malaga Philharmonic, Cámera Musicae Symphony, Extremadura Orchestra, and the Castilla y León Symphony Orchestra, among others, under conductors such as Jesús López Cobos, Lorenzo Viotti, Karina Canellakis, Domingo Hindoyán, Miguel Ángel Gómez Martínez, Yoel Levi, Pavel Baleff, Guillermo García Calvo, Sebastian Tewinkel, Clemens Schuldt and Alexandre Myrat.
Following in the classical tradition of Andrés Segovia and Narciso Yepes, Rafael Aguirre additionally seeks to expand and innovate in the repertoire of his instrument, incorporating music from different styles, such as flamenco, chamber music, pop, film music, or Spanish and Latin American folk music. His collaborations with contemporary composers have given him the opportunity to premier works by Sergio Assad (Grammy Award winner), Joaquín Clerch, Agustín Castilla Avila, David del Puerto and Daniel Real, among others.
His first recital album was published by RTVE Música, followed by two others released by Naxos. With the German label KSGExaudio, he released "Transcriptions" with music by Bach, Scarlatti, Mendelssohn, Schumann, Debussy, Ravel and Gershwin transcribed for guitar from original piano music. His collaboration with cellist Nadège Rochat resulted in the release of "La Vida Breve" by the label Ars Produktion. Two other projects presented him with an exciting repertoire of Brazilian music (with Anette Maiburg's ensemble for the label MDG) and Portuguese fado (with singer Filipa Tavares). His eighth project has been released by Naxos in 2018 with the First World Recording of Lorenzo Palomo's "Fulgores" with Castilla y León Symphony, violinist Ana Valderrama, and Maestro Jesús López Cobos.
As a result of these recordings, he has been pre-nominated for a Latin Grammy and has received enthusiastic reviews by Gramophone, The Strad, and Crescendo Magazine, also appearing on broadcasts by international radios such as the BBC, NPR, CBS, Radio Stephansdom de Viena, Radio Berlin Brandenburg, HR Hessische Rundfunk, Bayerische Rundfunk, NDR, MDR, Radio Nacional de España and The New Classical FM (Toronto).
At the age of 16, he made his orchestral debut with the "Concierto de Aranjuez" and the Malaga Youth Symphony Orchestra touring Spain and Morocco. He was awarded scholarships from the Andalusian Government and the Alexander von Humboldt Foundation that enabled his studies at the Düsseldorf Hochschule Robert Schumann in Germany with Prof. Joaquin Clerch, where he graduated with the highest honors. He later studied with Professor Michael Lewin at the Royal Academy of Music in London. Rafael currently lives in Madrid.
FRANÇOIS LÓPEZ-FERRER | GUEST CONDUCTOR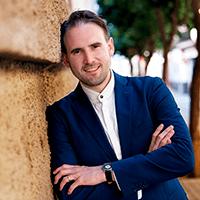 2021-22 Dudamel Fellow, Los Angeles Philharmonic
Associate Conductor, Cincinnati Symphony
Spanish-American conductor François López-Ferrer came to international attention after a critically acclaimed debut at the 2018 Verbier Festival, where he jumped in for Iván Fischer in a shared program with Sir Simon Rattle and Gébor Takécs-Nagy.
In demand as a guest conductor, López-Ferrer's recent and upcoming highlights include debuts with the Los Angeles Philharmonic, Orquesta Nacional de España, Cincinnati Symphony Orchestra, Orquesta Sinfónica de Galicia, Verbier Festival Orchestra, Berner Symphonieorchester, Orquesta Sinfónica Radio Televisión Española (RTVE), Orquesta Sinfónica de Castilla y León, Orquesta de Valencia, Orquesta Sinfónica de Navarra, Orchestra di Padova e del Veneto, Musikkollegium Winterthur, Orquesta Sinfónica Nacional de Chile, Orquesta de Extremadura, Joven Orquesta Nacional de España, Orquesta Joven de la Sinfónica de Galicia, Orquestra Sinfônica do Paraná, and the Orquestra Sinfônica de Porto Alegre.
As Associate Conductor of the Cincinnati Symphony Orchestra (CSO) and May Festival, he conducts the CSO's Young People's Concerts and provides artistic support to CSO's Music Director Louis Langrée and May Festival's Principal Conductor Juanjo Mena. López-Ferrer is one of six participants to be featured in the 2022 Bruno Walter National Conductor Preview with the Louisiana Philharmonic Orchestra. He previously served for two years as associate conductor of the Orquesta Sinfónica Nacional de Chile (OSNCH), Principal Conductor of the Ballet Nacional Chileno, and was the youngest ever Conductor-in-Residence of the OSNCH's Summer Concert Series.
Enrique Granados (1867–1916) | Goyescas: intermezzo
Granados is best known for his piano music, including the suite, Goyescas, inspired by the paintings of Francisco Goya (1746–1828). Composed between 1909 and 1912, its six movements evoke the general atmosphere of Goya's works, rather than specific paintings. In 1915, Granados used the piano pieces as the basis for a short opera, also titled Goyescas. In collaboration with his librettist, he developed a storyline about the people in Goya's paintings. He then expanded his piano pieces, and the librettist fitted words to the melodies. When the project was first planned, the premiere was to be given in Paris, but by the time it was finished, World War I forced cancellation of the production. In 1916 the Metropolitan Opera of New York offered to produce it, and Granados sailed to America to supervise the production. During rehearsals, it was found that one of the scene changes took longer than expected, so Granados hastily composed the intermezzo which has become the best-known excerpt from the opera. On his voyage home, Granados died when his ship was torpedoed by a German submarine.
The above program notes were written by former librarian and principal timpanist Jeffrey M. Edgmond for the BSO's February 2003 performance (Maestro Uri Barnea conducting). The BSO also performed the work in April 1965 under the baton of Maestro George Perkins.
Manuel de Falla (1876–1946) | The Three-Cornered Hat: Scenes and Dances from Part 1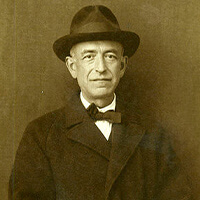 In 1916 the impresario Serge Diaghilev (of Firebird and The Rite of Spring notoriety) requested the use of Falla's Nights in the Gardens of Spain for a ballet. Falla thought the piece ill-suited to a dance interpretation and offered, instead, to write an original score. He proposed basing it on the novel, The Three-Cornered Hat, by the Spanish writer Pedro Antonio de Alarcon (1833-1891). Because of wartime difficulties, it was tried first in Madrid in 1917 as a pantomime, accompanied by a chamber orchestra. The expansion to a full ballet, with costumes and scenery by Pablo Picasso, was widely successful following its premier by Diaghilev's Ballets Russes in London in 1919.
The story is a comic tale of a miller, his young wife, and a foolish Corregidor—a local magistrate—who wants to have an affair with her. After several farcical complications, the young people manage to foil the old philanderer. The same tale had served as the source for Hugo Wolf's opera, Der Corregidor, in 1896. In 1934 it was the basis of a Broadway musical, Revenge With Music, with songs by Arthur Schwartz and Howard Dietz, including, "If There Is Someone Lovelier Than You" and "You and the Night and the Music."
The Billings Symphony has performed music from Falla's ballet several times through the years. The most recent performance of this particular collection was in February 2013 under the baton of Maestra Anne Harrigan.
Joaquín Rodrigo (1901-1999) | Concierto de Aranjuez
The music of Joaquín Rodrigo is steeped in the music and culture of his native Spain: from Baroque music of the early Spanish church to folk melodies and traditional Spanish folk instruments, especially the guitar. Born in Sagunto, Valencia, in 1901, Rodrigo was blinded at the age of three by diphtheria—a calamity which he credited to his early and lifelong involvement in music. A talented pianist as well as composer, he transcribed many of his orchestral works for one or two pianos. His catalog shows a definite flair for the concerto form with works for a variety of soloists, including guitarist Andrés Segovia, flutist James Galway, harpist Nicanor Zabaleta, and cellist Julian Lloyd Webber.
The cornerstone of the composer's reputation, the Concierto de Aranjuez, was composed in 1939, and dedicated to Regino Sainz de la Maza, who performed the premiere on November 6, 1940 in Barcelona. Rodrigo chose the title "to indicate a specific time: the end of the eighteenth and beginning of the nineteenth centuries, the courts of Charles IV and Ferdinand VII, a subtly stylized atmosphere of majas, bullfighters, and Spanish sounds returned from America," as well as "the fragrance of magnolias, the singing of birds, and the gushing of fountains" in the gardens of Aranjuez."
In Rodrigo's own program notes for the initial performance, he wrote: "The first movement is animated throughout by the same rhythmic strength and joy, with neither of its two themes interrupting its onward course. The second is a form of elegiac dialogue between the guitar and the solo instruments (cor anglais, bassoon, oboe, horn, etc.). A deep and uninterrupted pulse maintains the whole edifice in sound of this movement. The third movement evokes a courtly dance, in which a combination of bars (in duple and triple time), as well as extremely light scoring, maintains a lively tempo until the very end."
The Concierto de Aranjuez was an instant, rousing success and established Rodrigo as one of the most significant Spanish composers of the 20th century. The work has been arranged for many other solo instruments, and the theme of the second movement was famously adapted by trumpeter Miles Davis on his 1960 Sketches of Spain album—his version in turn becoming a jazz standard. In 1992, in honor of Rodrigo's 90th birthday, King Juan Carlos I of Spain awarded him the hereditary title, Marqués de los jardines de Aranjuez (Marquis of the gardens of Aranjuez).
The Billings Symphony presented this Rodrigo concerto two times previously: with Rey de la Torre, considered by many to be the father of modern classical guitar technique (1961), and with William Kanengiser, one of the founding members of the Los Angeles Guitar Quartet (1986).
Alberto Ginastera (1916–1983) | Danza del Trigo and Malambo from Estancia
Two Dances from Estancia
In 1941, the American ballet director Lincoln Kirstein commissioned Ginastera for a "ballet in one act and five scenes, based on Argentine country life." The resulting work, Estancia, was to be performed by the American Ballet Caravan, a platform for young American choreographers whose aim was to move ballet away from Russian traditions (one of the company's biggest hits was another cowboy ballet: 1938's Billy the Kid, with music by Copland). The troupe disbanded before the premiere, leaving Estancia in limbo. Ginastera reworked four of the episodes into an orchestral suite that was introduced in 1943, but the complete ballet did not premier until 1952, when it was presented by the Teatro Colón. Despite this considerable delay, the work was a tremendous success and firmly cemented Ginastera's international reputation.
Estancia (Argentine for "ranch") tells the story of a city boy struggling to adapt to life in the country. His love for a local girl is unrequited, because she considers him too weak and unskilled to be able to compete with the local gauchos (cowboys). The boy eventually wins her affections by immersing himself in ranch life until he is able to beat his rivals at their own games, in the culminating Final Dance, which is a malambo—a frenetic Argentine dance in which gauchos compete to demonstrate their prowess and masculinity.
This is the Billings Symphony's first performance of this Ginastera work.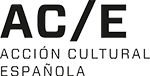 This concert is supported by a grant from Acción Cultural Española.