Classic Series
Spanish Nights
2.13.21
2:00 PM & 7:30 PM
2.13.21
7:30 PM Live Stream
2.14.21
2:00 PM
Location: Lockwood Performing Arts Center
Buy Tickets
Rafael Aguirre guitar
Joaquín Rodrigo Concierto de Aranjuez
Alberto Ginastera Danza del trigo and Malambo from Estancia
Manuel de Falla Suite from The Three-Cornered Hat
Our salute to exotic places begins with celebrated guitarist Rafael Aguirre performing Rodrigo's jewel for Spanish guitar, Concierto de Aranjuez.
Rafael Aguirre | Guitar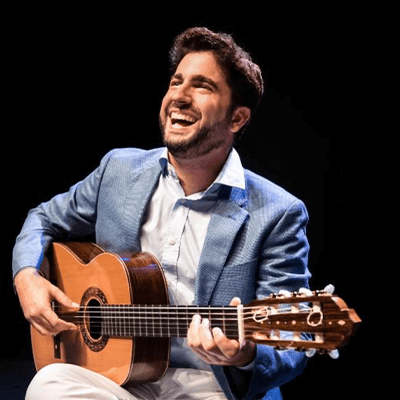 Rafael Aguirre is an internationally acclaimed musician whose deep understanding of music, dazzling virtuosity, and immensely diverse repertoire has taken him to 34 countries. At the beginning of his extraordinary career, he won thirteen first prizes at international competitions (including the Tarrega Competition and Pro Musicis, New York). He is one of the most celebrated guitarists worldwide. For more information about Rafael Aguirre, visit rafael-aguirre.com.
Concerto de Aranjuez
Premiered on November 9, 1940, at Palau de la Música Catalana with the Orquesta Filarmónica de Barcelona. Conducted by César Mendoza Lasalle.
The gardens at Palacio Real de Aranjuez, the former Spanish royal residence located 50 miles south of Madrid, Spain inspired Concierto de Aranjuez. Blind since the age of three, Rodrigo was a pianist and did not play the guitar. Despite that, Concierto de Aranjuez became his best-known work with what classical guitarist John Williams called his "distinctive style of dissonant elegance."
Concierto de Aranjuez is meant to be played beyond the written notes. Rodrigo stated "it should sound like the hidden breeze that stirs the treetops in the parks, as strong as a butterfly and as dainty as a verónica [a classic pass in bullfighting.]"