Special Events
Symphony in the Park
6.27.21
4:00 PM - 9:00 PM
Location: Pioneer Park
Instrument Petting Zoo: 4:00 PM – 5:00 PM
Stillwater Strings: 5:00 PM – 6:00 PM
Instrument Petting Zoo: 6:00 PM – 6:45 PM
Kids Conducting Contest: 6:45 PM – 7:00 PM
Billings Symphony: 7:00 PM – 9:00 PM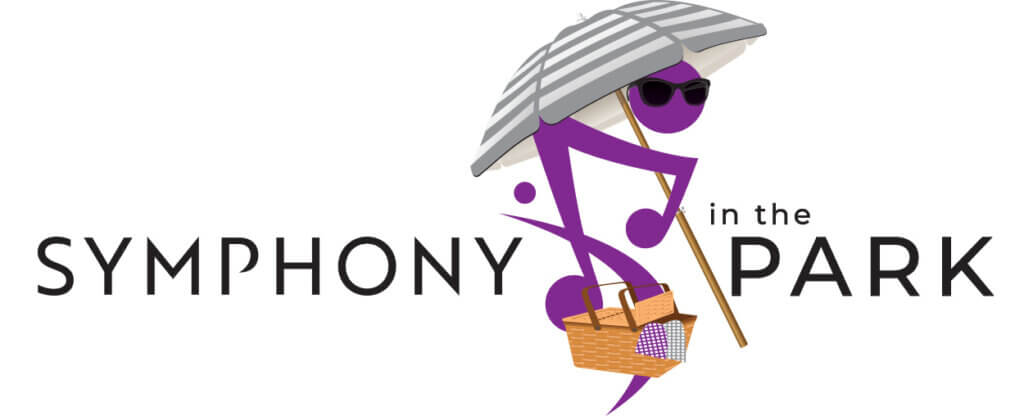 The Billings Symphony Orchestra & Chorale announces the return of the much-anticipated Symphony in the Park at Pioneer Park. Symphony in the Park will take place on Sunday, June 27 from 4 to 9 PM. under the Symphony shell. The Skyview High School Music Department will show a free special performance of Broadway Bound on Saturday, June 26th at 7 PM under the Symphony Shell.
Click below to read all about Symphony in the Park!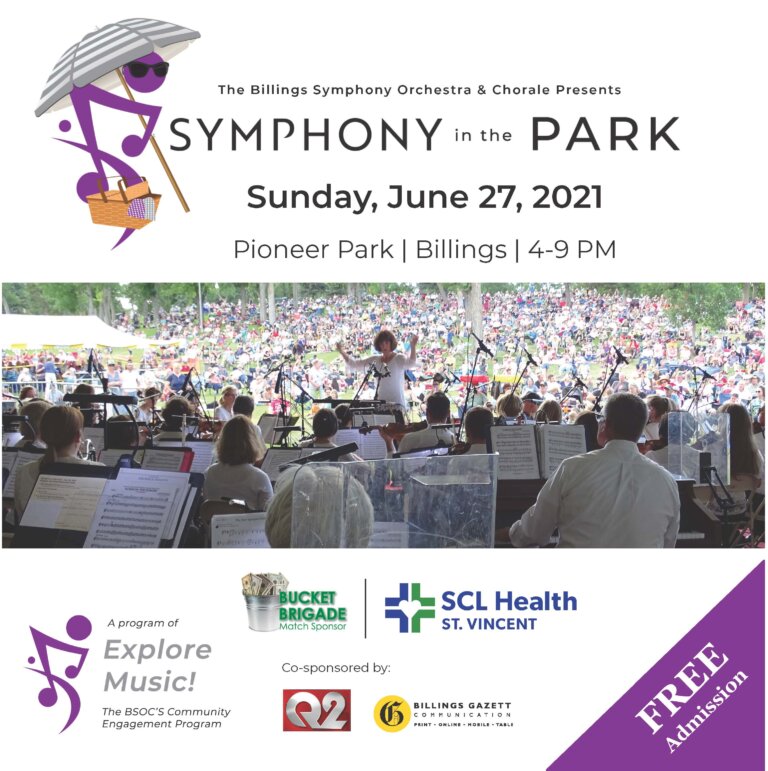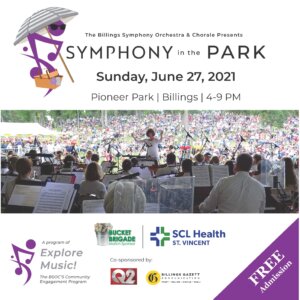 Symphony in the Park Schedule
Instrument Petting Zoo: 4:00 PM – 5:00 PM and 6:00 PM – 6:45 PM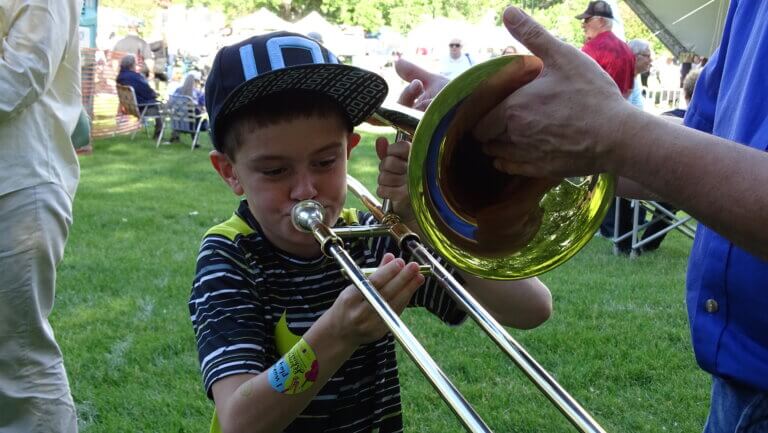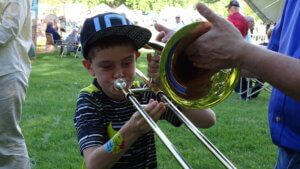 Ever want to play the violin, trumpet, or flute? Now's your chance! Great for kids and adults alike. Come, try out one of the many instruments provided by Eckroth Music and Hansen Music.
Stillwater Strings: 5:00 PM – 6:00 PM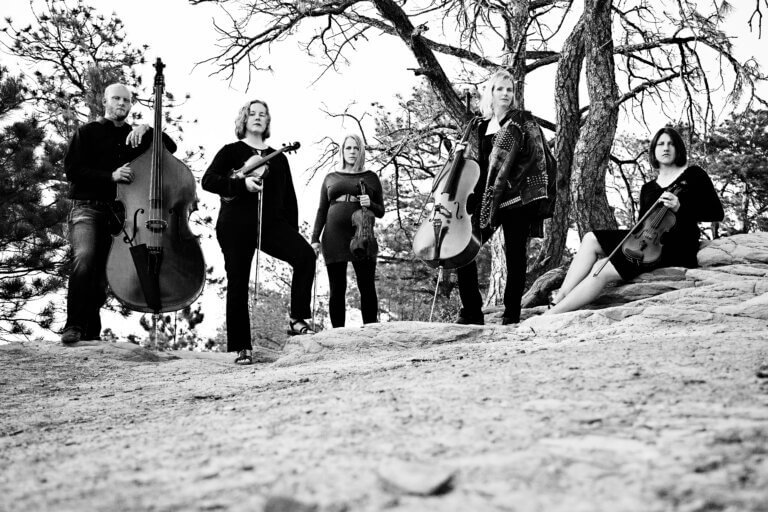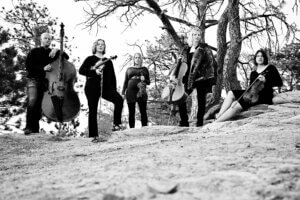 Stillwater Strings specializes in playing unique and customized music for special events including weddings, receptions, funerals, and banquets. Each member is native to Montana and lives in the Billings area. Each member has degrees in music and has played for most of our lives.
Kids Conducting Contest: 6:45 PM – 7:00 PM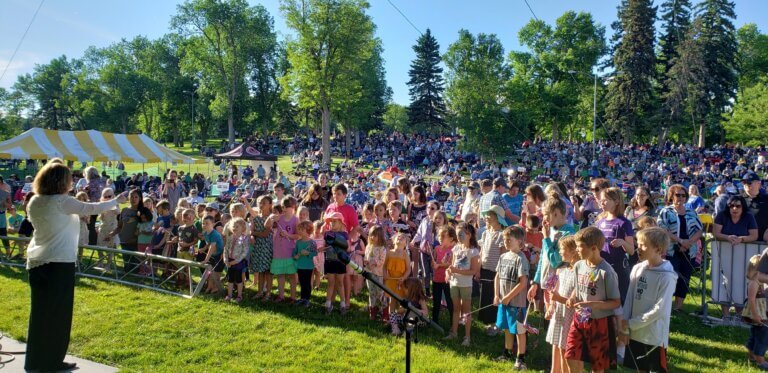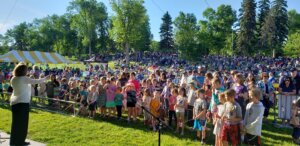 Hey, Kids! Gather by the stage area with your friends. We will choose a handful of enthusiastic hopefuls to compete for a chance to conduct the orchestra later in the evening. Feel what it's like to help make beautiful music.
Billings Symphony: 7:00 PM – 9:00 PM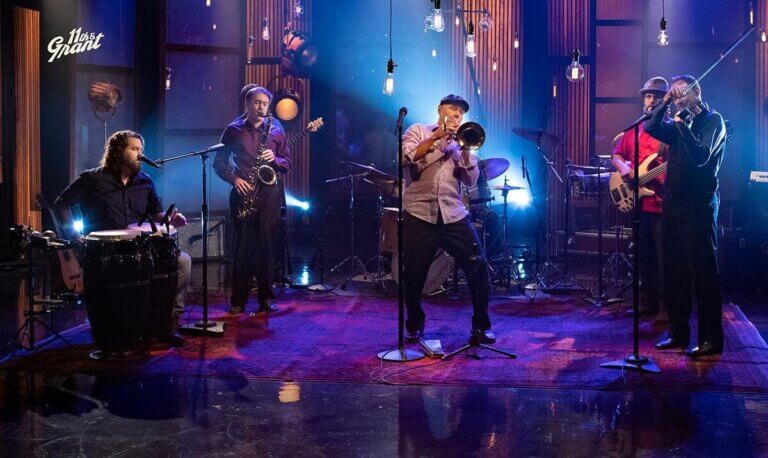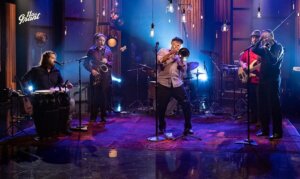 Featuring John Roberts y Pan Blanco!
John Roberts began playing the piano at the age of 5 while living on an isolated ranch in Southeastern Montana. There was no TV, but there was a piano. From age 11-18, in Malta, MT, he was in band (trombone) and choir in the Malta, MT schools.  After graduating in 1996 from Montana State University-Billings with a BA in Music Performance, John moved to Los Angeles to earn his Master of Fine Arts in Western Orchestral Performance from California Institute of the Arts.
Feeling equally comfortable in orchestral and commercial music realms, he has performed in all 50 of the United States and around the world, including; Mexico, South America, Israel, Cuba, India, Asia, Europe, the Caribbean, Australia, and Africa. Notable venues include the Lincoln Center in New York, Pantages Theatre, Kodak Theatre, Roskilde, House of Blues, Blue Note, Apollo, and Apollo London. Tours include his own band, John Roberts y Pan Blanco (Afro-Latin Soul), Ricardo Lemvo and Makina Loca (Congolese/Cuban), Bobby Womack (Soul), Los Pinguos (Argentina), The Temptations, Chaka Khan, The New Orleans Jazz Orchestra, and more. Other performances and recordings include multiple Grammy and Emmy Award Shows, Chris Botti, LA Philharmonic, Feist, Sting, Dr. Dre, Mariah Carey, Lady Gaga, Fallout Boy, Burt Bacharach, Bill Holman, The Ojays, Jill Scott, Christina Aguilera, The Today Show, NPR, PBS, Disney, and more.
Roberts is a Professor of Low Brass at MSU Billings, teaching Music Theory, Aural Perception, Jazz Ensemble, Commercial Ensemble, World Music courses, and more.   He is active in the Montana and Los Angeles performing and studio scenes as a bandleader, studio musician and composer/arranger.  John is currently recording and composing for his next album, part of which was recorded in Santiago de Cuba and Los Angeles.  This record will be a collaboration between Cuban, Congolese, Los Angeles, and Montana artists.