Sukin Series
Catalyst Quartet
5.6.21
7:00 PM
Location: The Billings Depot
Buy Tickets
Hailed by The New York Times at its Carnegie Hall debut as "invariably energetic and finely burnished… playing with earthy vigor," in 2020 the Grammy Award-winning Catalyst Quartet celebrated the 10th Anniversary of its founding by the Sphinx Competition. The ensemble believes in the unity that can be achieved through music and imagine their programs and projects with this in mind, redefining and reimagining the classical music experience.
Please note that masks are required at all times when in our venues. Thank you for helping us to safely present live music in Billings!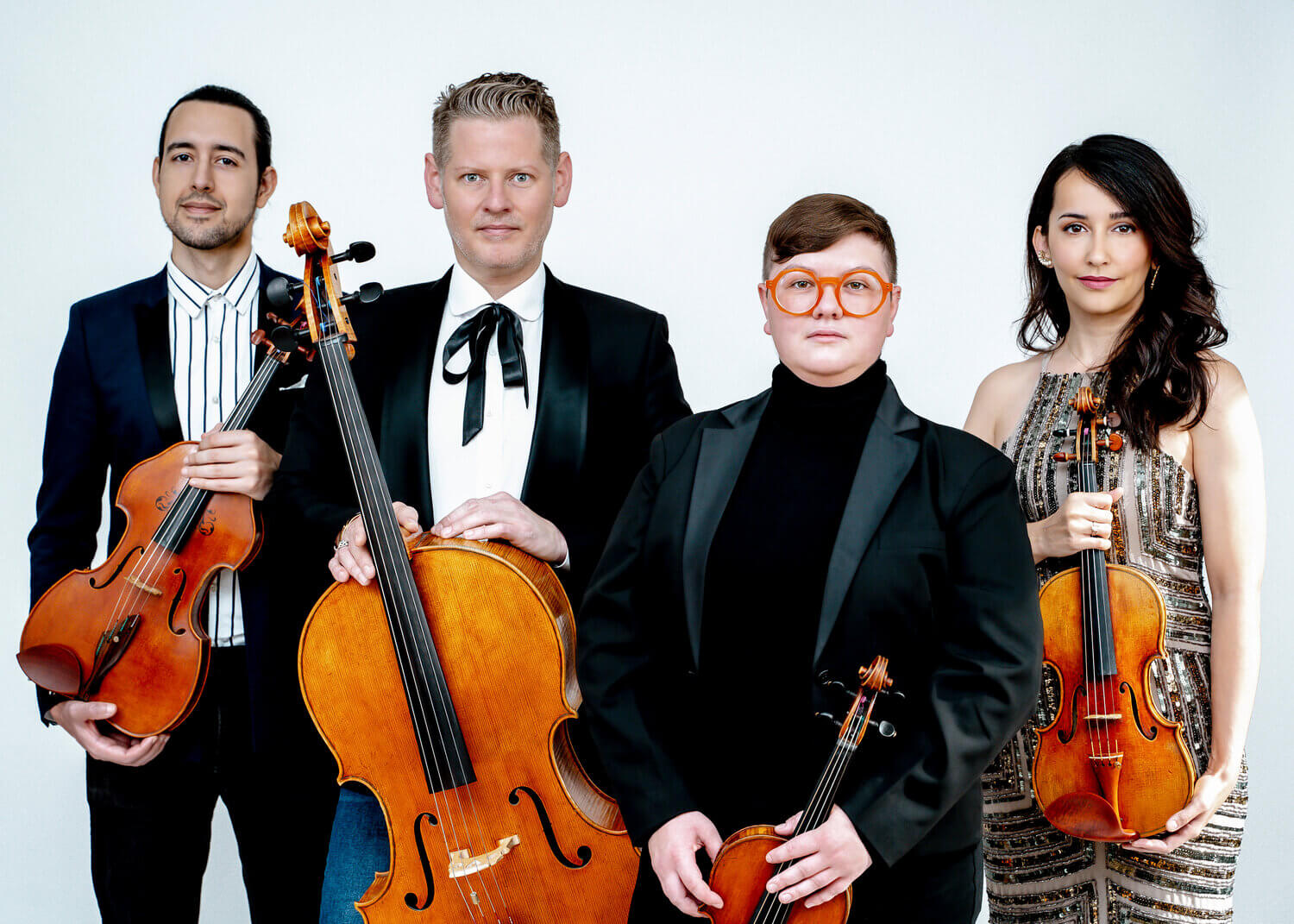 CATALYST QUARTET
Catalyst Quartet has toured widely throughout the United States and abroad, including sold-out performances at the Kennedy Center in Washington D.C., at Chicago's Harris Theater, Miami's New World Center, and Stern Auditorium at Carnegie Hall in New York City. The Quartet has been guest artists with the Cincinnati Symphony, New Haven Symphony, St. Paul Chamber Orchestra, and the Orquesta Filarmónica de Bogotá, and has served as principal players and featured ensemble with the Sphinx Virtuosi on six national tours. They have been invited to perform by prominent music festivals ranging from Mainly Mozart in San Diego to the Sitka Music Festival and Juneau Jazz and Classics in Alaska, and the Grand Canyon Music Festival, where they appear annually. Catalyst Quartet was ensemble-in-residence at the Vail Dance Festival in 2016. In 2014, they opened the Festival del Sole in Napa, California with Joshua Bell and participated in England's Aldeburgh Music Foundation String Quartet Residency with two performances in the Jubilee Hall.
Recent seasons have brought international engagements in Russia, South Korea, Mexico, Argentina, Colombia, and Puerto Rico, along with regular tours throughout the United States. Residents of New York City, the ensemble has performed at The Metropolitan Museum of Art, City Center, Columbia University's Miller Theatre, The New School (for Schneider Concerts), and Lincoln Center. They played six concerts with jazz vocalist Cécile McLorin Salvant for Jazz at Lincoln Center. The subsequent recording won the 2018 Grammy Award for Best Jazz Vocal Album. Catalyst Quartet launched its own New York series CQ@Howl in 2018.
Recent collaborations include Encuentros, a program with cellist Gabriel Cabezas with the premiere of a new work by Cuban composer Jorge Amado Molina; (im)igration, with the Imani Winds; and CQ Minute, 10 miniature string quartets commissioned for the quartet's 10th anniversary, with works by Andy Akiho, Kishi Bashi, Billy Childs, Paquito D'Rivera, Tania Leon, Jessie Montgomery, Kevin Puts, Caroline Shaw, Joan Tower, and a to-be-named composer selected from a national call for scores. Catalyst Quartet's latest project is UNCOVERED, a multi-volume series of recordings for Azica Records celebrating beautifully crafted works by composers overlooked and sidelined because of their race or gender. Volume 1, released in February 2021 with clarinetist Anthony McGill and pianist Stewart Goodyear, includes the string quartet and quintets of Samuel Coleridge-Taylor. Forthcoming release will feature music of Florence Price, Coleridge-Taylor Perkinson, William Grant Still, and George Walker, among others.
Catalyst Quartet's recordings span the ensemble's scope of interests and artistry. Its debut album, The Bach/Gould Project, features the Quartet's own arrangement of J.S. Bach's Goldberg Variations paired with Glenn Gould's String Quartet Op. 1. Strum is the solo debut album of composer Jessie Montgomery, former Catalyst Quartet violinist. Bandaneon y cuerdas features tango-inspired music for string quartet and bandoneon by JP Jofre, and Dreams and Daggers is their GRAMMY-winning album with Cecile McLorin Salvant.
Catalyst Quartet combines a serious commitment to diversity and education with a passion for contemporary works. The ensemble serves as principal faculty at the Sphinx Performance Academy at The Cleveland Institute of Music and Curtis Institute of Music. Catalyst Quartet's ongoing residencies include interactive performance presentations and workshops with Native American student composers at the Grand Canyon Music Festival and the Sphinx Organization's Overture program, which delivers access to music education in Detroit and Flint, Michigan. Past residencies have included concerts and masterclasses at the University of Michigan, University of Washington, Rice University, Houston's Society for the Performing Arts, Cincinnati College-Conservatory of Music, The Virginia Arts Festival, and Pennsylvania State University, the In Harmony Project in England, The University of South Africa, and The Teatro De Bellas Artes in Cali, Colombia. The ensemble's residency in Havana, Cuba for the Cuban American Youth Orchestra in January 2019, was the first by an American string quartet since the revolution.
Catalyst Quartet members hold degrees from The Cleveland Institute of Music, The Juilliard School, The Curtis Institute of Music, and New England Conservatory. Catalyst Quartet is a Sphinx ensemble and proudly endorses Pirastro strings. Learn more at www.catalystquartet.com.
KARLA DONEHEW PEREZ | VIOLIN
A founding member of the Catalyst Quartet, Karla Donehew Perez maintains a busy performance schedule throughout the United States and around the world. In addition to her work with the Catalyst Quartet, she has been a featured soloist with the Berkeley Symphony, Sacramento Philharmonic, San Francisco Chamber Orchestra, Oakland East Bay Symphony, Puerto Rico Symphony Orchestra, Sphinx Symphony Orchestra, Sphinx Chamber Orchestra, and the New World Symphony. She has performed with Orpheus Chamber Orchestra and collaborated with Joshua Bell, Zuill Bailey, Awadagin Pratt, Anthony McGill, Stewart Goodyear, Fredericka Von Stade, Garry Karr, and members of the Guarneri, Juilliard, and Takács quartets. Donehew Perez has been guest concertmaster at the Tucson Symphony and spent two years as a fellow at the New World Symphony, often as concertmaster or principal second violin.
Born in Puerto Rico, Donehew Perez began playing the violin at age three. She made her solo debut with the Puerto Rico Symphony when she was nine. After moving to California, she studied with Anne Crowden of The Crowden School. She holds bachelor's and master's degrees from the Cleveland Institute of Music, where she studied with Paul Kantor, David Cerone, and William Preucil.
Donehew Perez performs on a violin made in 2013 by renowned German luthier Stefan-Peter Grenier, supported in part by a Sphinx MPower Artist Grant, and a violin bow by Victor Fetique on loan from the Rachel Elizabeth Barton Foundation.
ABI FAYETTE | VIOLIN
Violinist Abi Fayette's performances have taken her all over the world, spanning the United States, Europe, and Asia. She is a member of the Orpheus Chamber Orchestra. As a chamber musician, she has performed with Jonathan Biss, Brett Dean, Gary Hoffman, Kim Kashkashian, Ida Kavafian, Joseph Silverstein, Steven Tenenbom, Jörg Widmann, and Peter Wiley. She has performed at Kneisel Hall, Music from Angel Fire, The Taos School of Music, and the Marlboro Music Festival. She began appearing with the Cayalts Quartet during the 2019-20 season.Raised in a musical family, her violin studies began at age three. She was enrolled in the Juilliard School's Pre-College Division and studied with Shirley Givens, Ann Setzer, Kyung-Wha Chung, and Joseph Silverstein. She holds a bachelor's degree from The Curtis Institute of Music and a master's degree from the New England Conservatory. During the 2019-20 season, Fayette was a Community Artist Fellow at the Curtis Institute of Music working in the Philadelphia School District on music education programs.
Abi performs on a violin made in 1860 by Jean-Baptiste Vuillaume, generously on loan from Marlboro Music.
PAUL LARAIA | VIOLA
Praised by The Strad for "eloquent" and "vibrant" playing, violist Paul Laraia enjoys a multifaceted career as a soloist, chamber musician, and advocate for new music. He has appeared as soloist with the Pittsburgh Symphony, Atlanta Symphony, New Jersey Symphony, Nashville Symphony, St. Paul Chamber Orchestra, and Filharmonica De Bogata, at festivals including the Yellow Barn, Sarasota, Vail International Dance, Festival Del Sole, Incheon Music Hic Et Nunc!, Hong Kong Generation Next Arts, Sitka, Banff, Grand Canyon, and Cornell's Mayfest. He has performed chamber music with Gil Shaham, Joshua Bell, Yo-Yo Ma, Jorg Widmann, Vadim Repin, Edgar Meyer, Donald Weilerstein, Cho-lang Lin, Roger Tapping, Anthony Marwood, Daniel Phillips, and Paul Huang. Laraia recently recorded a solo debut album of Bach, Reger, Hindemith, and Henze for the White Pine label.
The New Jersey native first studied viola with Brynina Socolofsk, and later with Kim Kashkashian at the New England Conservatory of Music. He was First Prize Winner of the 2011 Sphinx Competition and in 2019, won First Prize in the Lionel Tertis International Viola Competition under whose auspices he made his recital debut at Wigmore Hall in London in 2020.
Paul Laraia performs on a Hiroshi Iizuka viola in the 'viola d'amore' style, and a Belgian bow by Pierre Guillaume awarded by the Bishops Strings Shop in London.
KARLOS RODRIGUEZ | CELLO
A founding member of the Catalyst Quartet, Cuban-American cellist Karlos Rodriguez is a soloist, recitalist, chamber musician, clinician, recording artist, writer, and administrator.
The winner of competitions and prizes, he has appeared at Carnegie Hall, David Geffen Hall, and Alice Tully Hall at Lincoln Center, The Kennedy Center for the Performing Arts, The New World Center, and Philadelphia's Kimmel Center. Rodriguez has also been honored to work with numerous distinguished artists such as the Beaux Arts Trio, the American, Cavani, Cleveland, Emerson, Guarneri, Juilliard, Miami, Orion, Tokyo, and Vermeer String Quartets; Janos Starker, Lynn Harrell, Zuill Bailey, Pieter Wispelwey, Rachel Barton-Pine, Awadagin Pratt, Joshua Bell, Anthony McGill, Paul Neubauer, and Steven Isserlis.
A love of dance led to collaborations with the Thomas/Ortiz Dance Company, Freefall, Mark Morris Dance Group, Vail International Dance Festival, and Chita Rivera. Rodriguez has attended and been a guest artist at the Encore School for Strings; the Sarasota, Strings, Aspen, Grand Canyon, Great Lakes, and Kneisel Hall chamber music festivals; the Cleveland Chamber Music Society, Philadelphia Orchestra Chamber Music Society, and Napa's Festival Del Sole. As an educator, he is the Director of Artistic Affairs for the Sphinx Performance Academy at the Cleveland Institute of Music, Curtis Institute of Music, and The Juilliard School, and has given master classes domestically and abroad.
Rodriguez has worked on commercials and films, collaborated with pop artists such as Shakira, John Legend, Pink Martini, and contributed to numerous Broadway musicals. He is a member of the Radio City Music Hall Orchestra and past principal cellist of the Florida Grand Opera Orchestra. Rodriguez is also the author of Living and Sustaining a Creative Life-Music, published by Intellect Books UK. His teachers have included Richard Aaron, Peter Wiley, and David Soyer.
Karlos Rodriguez plays on a cello by award-winning luthier Michael Doran made possible through a Sphinx MPower Artist Grant
*Programming subject to change