Sukin Series
KARLS, BYRUM & AABERG: VOICES OF THE BIG SKY
Thursday
Oct 19, 2023
7:00PM
Babcock Theatre
2810 2nd Ave N
$25 - $42
Philip Aaberg, piano
Megan Karls, violin
Cody Byrum, cello
Come celebrate new sounds under the Big Sky in this program of contemporary works by diverse Montana composers. Legendary pianist Philip Aaberg joins Billings Symphony's own principal cellist Cody Byrum and Great Falls Symphony's Co-Concertmaster Megan Karls for a concert showcasing the vast musical talents of the Treasure State!
Philip Aaberg is a Grammy- and Emmy-nominated Montana fleet-fingered pianist from Chester.
Megan Karls is the first woman in classical music to be awarded the Montana Arts Council's Artist Innovation Award, for her debut video album entitled "Decommissioned: Solo Violin in Cold War Relics," filmed live in military structures across Montana.
Cody Byrum has taught in South America as well has been a guest professor at Rocky Mountain College's string department.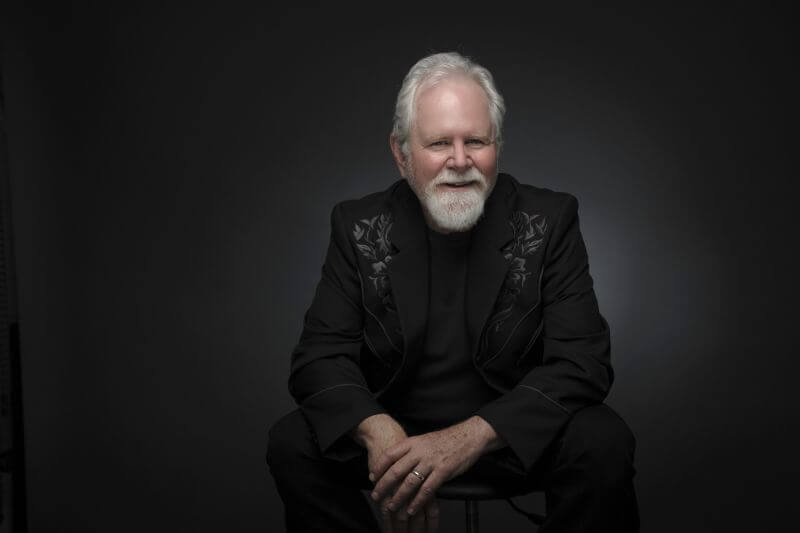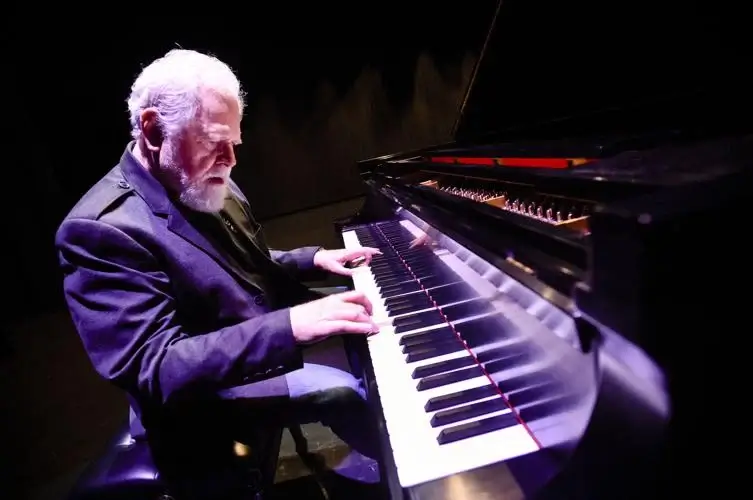 Composer Philip Aaberg writes music that connects a global audience to the sweeping landscape of the West. By translating Montana's farms, ranches, and native cultures into musical concepts, he's forged a unique keyboard style that paints an audible portrait of his home state. Although classically trained, Philip celebrates many traditions with his compositions. He weaves strains of blues and bluegrass as well as rock and new music throughout his melodic tapestries.
Besides playing piano with the Boston Pops and participating in the Marlboro Chamber Music Festival, Philip has appeared on many of the world's great concert stages from Seville and Stockholm to London and Rome. He has cut eight solo albums, one of which, Live From Montana, received a 2002 Grammy nomination. As a guest artist, Philip has performed on over 200 albums and on PBS's All-American Jazz, which earned him an Emmy nomination. Another Emmy nomination followed in 2008 for his soundtrack "Class C: The Only Game in Town". Phil produced Raven with singer-songwriter Kristina Stykos and Native Anthropology with Jack Gladstone, as well as a 2 CD jazz compilation A Night at the Ozark." He is a true composer, as well as a great interpreter," says fellow pianist George Winston. "His music so deeply captures the essence of Montana, and yet it is so universal."
"With this music of Eastern Montana, I've tried to capture things that are important to me such as the quality of the sound. On the prairie, sound carries a long way. The sense of vision is important, too," explains Philip, whose innovative compositions have been influenced by everything from barbed wire and trains to twilight. "On a clear day, you can see the Rockies a hundred miles away. I try to communicate that sense of distance and loneliness.
A past recipient of the Montana Governor's Award for the Arts, Philip graduated from Harvard, where he received a four-year Leonard Bernstein Music Scholarship. After post-graduate studies, he embarked on a career that included recording studio work and tours with musical giants such as Peter Gabriel, Elvin Bishop, and the Doobie Brothers.
Of his many accomplishments, Arts Without Boundaries (AWB) ranks among Philip's most satisfying. Co-founded in 2000 with his wife, Patty, AWB provides funding to keep the arts alive in classrooms across America. With AWB's help, communities can now afford to bring touring artists into their schools as instructors and fairly compensate the visiting performers. "These workshops teach kids to listen," says Philip, whose three grown sons all pursued art-related careers. "They give them the opportunity to learn from the example professionals set as teachers and musicians."
Philip, Patty, and their young son, Jake, live in the Chester, Montana home where Philip grew up and picked out his first piano tune—a Gregorian chant—at age four.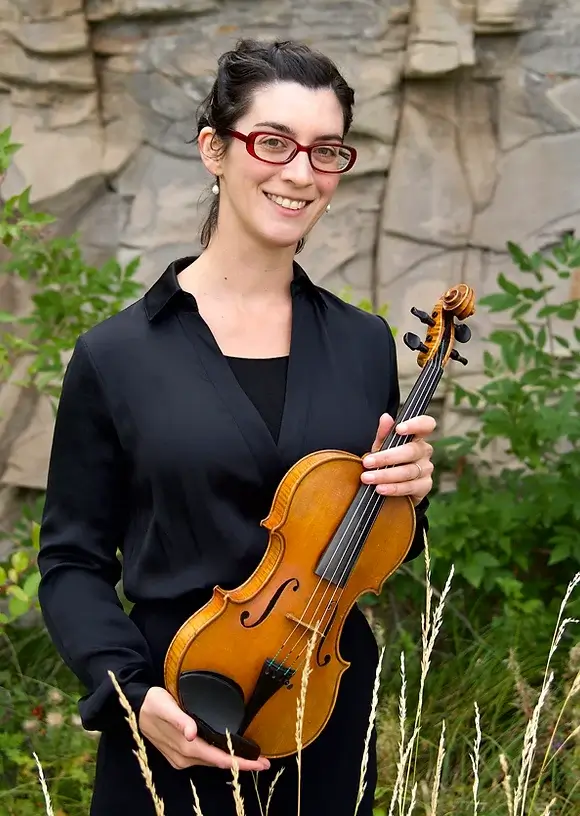 Megan Karls loves making her home in Montana, where she performs as Co-Concertmaster of the Great Falls Symphony and violinist with the Cascade String Quartet. She has frequented as guest Concertmaster for the Bozeman, Billings, and Butte Symphonies, Intermountain Opera Company, and with the conductor-less String Orchestra of the Rockies. In recent years, Megan has appeared as a concerto soloist with the Great Falls Symphony and the Milwaukee Philharmonic.
In 2021, Megan became the first woman in classical music to be awarded the Montana Arts Council's Artist Innovation Award for her debut video album, Decommissioned: Solo Violin in Cold War Relics, a project of Bach and contemporary composers recorded in decommissioned military structures across Montana. Last season, she released her second solo video album, Re-envisioned: Montana Composers in Mission Churches, through generous support of the Arts Council and the National Endowment for the Arts.
As a chamber musician, Megan has been a guest artist across the nation, including Oberlin Conservatory, Lawrence University, Northern Illinois University, Roundtop, and the Society for Electroacoustic Music in the US. She spends her summers performing with the Britt Music Festival, McCall Music Festival, Bravo! Big Sky, Assisi Performing Arts in Italy, and has traveled to El Salvador as a Teaching Artist with MusAid, an organization that partners with budding socially minded music education programs across the world.
Megan maintains an active and beloved studio of private students in Great Falls and Billings, and in 2015 received the Yale Distinguished Music Educator Award on behalf of the Great Falls Symphony and Public Schools collaborative partnership. Megan is grateful to her mentors from Lawrence University and the University of Iowa, where she holds degrees with honors in Violin Performance and Political Science.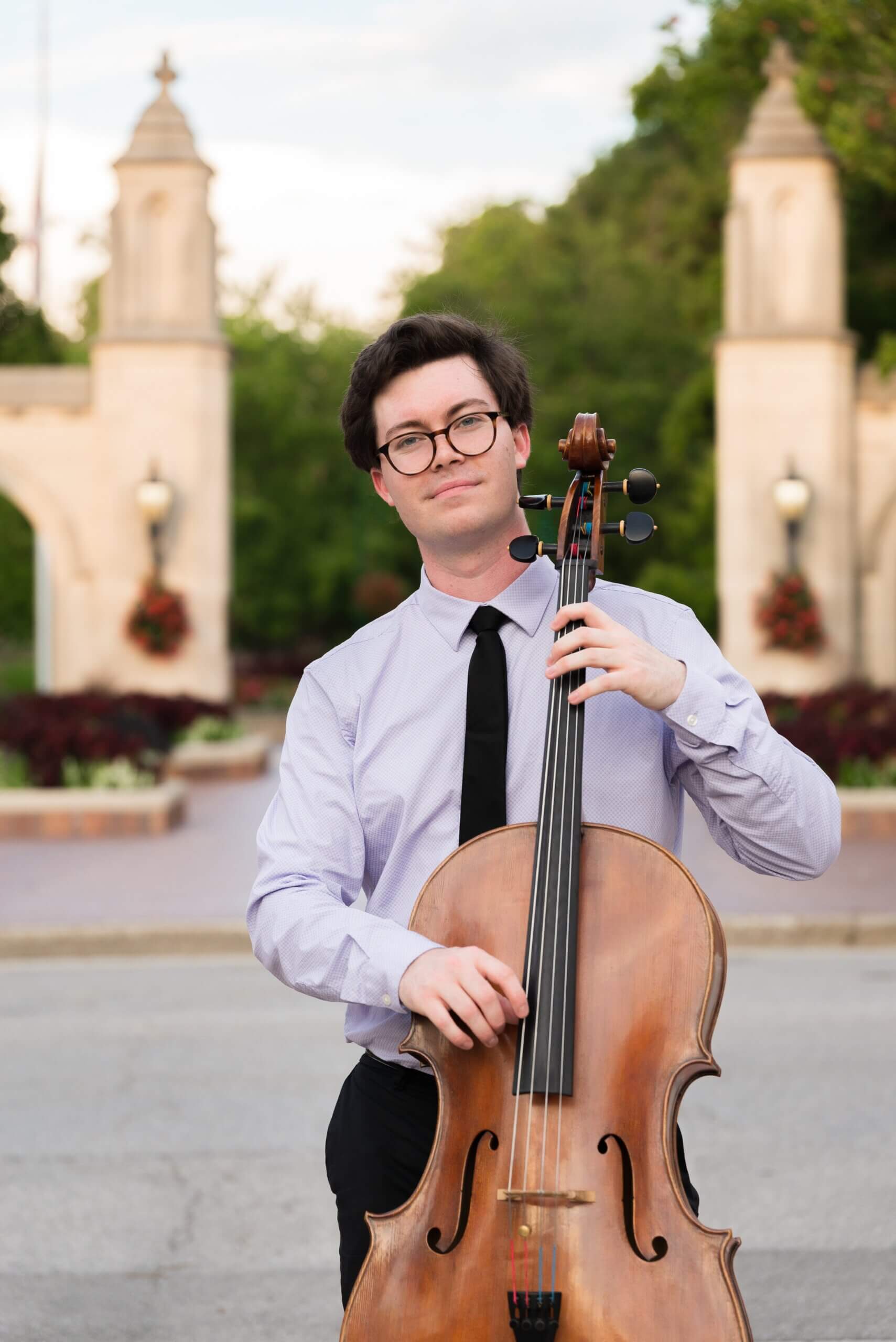 Cody Byrum is the principal cellist of the Billings Symphony. Currently living in Bloomington Indiana, Cody is finishing his Doctor of Music degree at the Indiana University Jacobs School of Music, studying with Professor Emilio Colón. He has additionally performed with the Owensboro Philharmonic, Richmond Symphony, and Evansville Philharmonic.
At age fourteen he began his formal studies with Dr. Jonathan Ruck (University of Oklahoma), shortly afterwards making his solo debut, performing the Lalo Cello Concerto with the Oklahoma City Philharmonic. After graduating with distinction from the University of Oklahoma with a Bachelor of Music, Cody went on to complete a Master of Music at Indiana University where he continued his studies. An active educator, Cody maintains a private studio and travels the country as a guest clinician. Cody plays on a cello made by Paolo Vettori in 2018, crafted with Italian wood from 1828, and a John Dodd bow from 1805.