Sukin Series
Henry Mancini Institute String Quartet
Thursday
Feb 23, 2023
7PM
The Billings Depot
2310 Montana Ave.
$20 - $40
The Henry Mancini Institute String Quartet from Miami, FL—which includes Billings native Rosie Weiss—presents Klap, Knock, and Stomp, an eclectic program juxtaposing Celtic and Nordic folk music with works by American avant-garde composers Joan Jeanrenaud and Daniel Bernard Roumain (DBR).
Klap, Knock & Stomp
Henry Mancini Institute String Quartet
Thursday, Feb. 23, 2023 | 7PM
The Billings Depot
2ND CONCERT!
Friday, Feb. 24, 2023 | 7 PM
Roosevelt Center | 519 Broadway Ave. S., Red Lodge, MT
The HMI String Quartet takes their show to Red Lodge for a FREE concert sponsored by Sibanye Stillwater, the Red Lodge Area Community Foundation, and the Roosevelt Center.
Rosie Weiss, violin
João Felipe, violin
Colin Priller, viola
Esther Rogers Baker, cello
Schottis (2015)
Bosse Nordin, arr. Danish String Quartet (DSQ)
Knock (2016)
Joan Jeanrenaud
Blueprint (2016)
Caroline Shaw
String Quartet No. 5, "Parks" (2005)
Daniel Bernard Roumain
"I made up my mind not to move"
Klap Ur Handz
Intermission
John's Book of Alleged Dances (1994)
John Adams
Toot Nipple
Pavane: She's So Fine
Shine You No More (2017)
Rune Tonsgaard Sørensen
Sønderho Bridal Trilogy (2015)
Traditional Danish, arr. DSQ
Part II: Brudestykke
Jässpodspolska (2016)
Traditional Swedish, arr. DSQ
Catharis/Spootiskerry (2022)
Amy Cann/Ian Burns, arr. Rosie Weiss
---
THE HENRY MANCINI INSTITUTE STRING QUARTET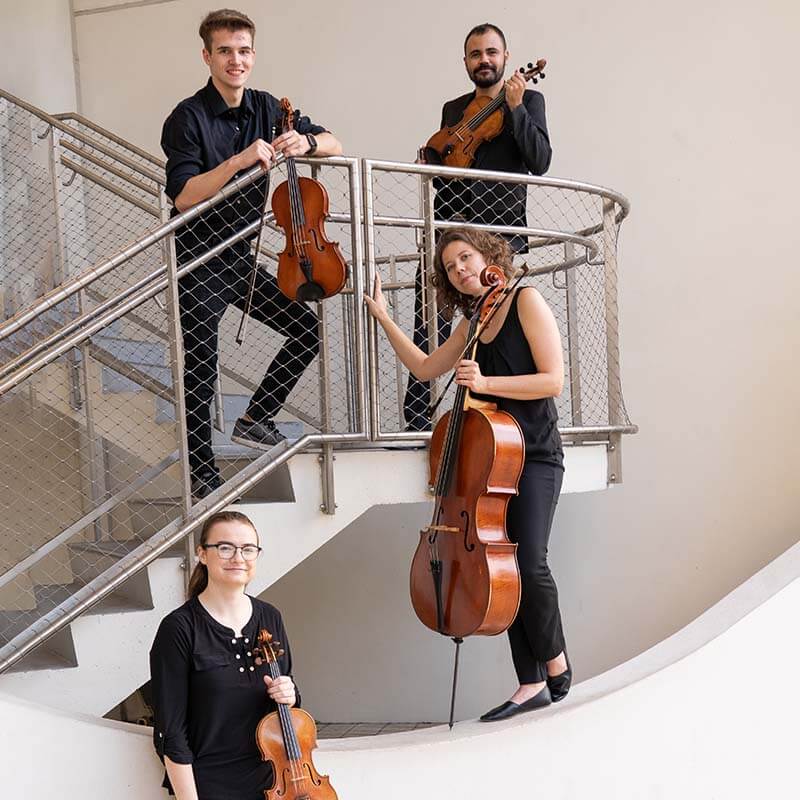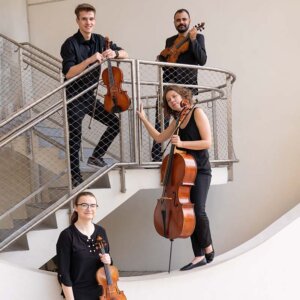 The HMI String Quartet is comprised of graduate fellows from the Henry Mancini Institute at the University of Miami's Frost School of Music. With a unique combination of musical backgrounds, including classical, pop, Celtic, and Brazilian, they perform a broad range of styles, offering a fresh take on the string quartet tradition. They also have a passion for works by living (and underrepresented) composers. Notable recent engagements include Steve Reich's Different Trains in collaboration with Seth Parker Woods, a special invitation to perform an original Celtic arrangement at National Sawdust in Brooklyn, NY, and masterclasses with the Miró and JACK Quartets. Their coaches in Miami include Jeffrey Zeigler (formerly Kronos Quartet) and Scott Flavin.
For more information on the HMI Quartet, please visit the Frost School of Music website at frost.miami.edu.
---
ROSIE WEISS | VIOLIN
Rosie Weiss is a versatile violinist and fiddler, studio musician, and arranger residing in Miami, Florida. Growing up in Montana, she began violin at age 3, became a two-time junior state fiddle champion, joined the Billings Symphony as an intern at age 12, and twice won the state-wide concerto competition. An accomplished Celtic fiddler, Rosie has appeared in rock, jazz, and country ensembles, while on the international stage, she's toured with both Carnegie Hall's National Youth Orchestra and the Orchestra of the Americas, performing across four continents alongside such world-renowned artists as Joshua Bell, Emanuel Ax, and Valery Gergiev. As an avid chamber musician, she's spent summers at Festival Napa Valley and Zephyr International Chamber Music Festival, and also performs with Zestrio, a Montana/Wyoming-based piano trio. Currently, Rosie is completing her master's degree in violin performance at the University of Miami's Frost School of Music, while performing professionally with a variety of Florida ensembles, including the Palm Beach Symphony. Back home, she loves the wide-open spaces of Big Sky Country, especially hiking and camping in the nearby Beartooth Mountains.
JOÃO FELIPE | VIOLIN
A performer and educator, João is currently a doctoral candidate at the University of Miami, where he serves as teaching assistant to distinguished violinist and pedagogue Charles Castleman. Having participated in several music festivals such as Napa Valley Festival, FEMUSC and Academie Musicale de Morges, he joined the faculty of the Domingos Martins International Music Festival in 2019. In addition to being a member of the HMI String Quartet, João has performed as concertmaster of the Frost Symphony, HMI Orchestra and Alhambra Orchestra. Master class appearances include Leon Spierer, Shmuel Ashkenasi, Paul Kantor and members of the Kronos, Miró, Danish, JACK, and St. Lawrence quartets. Originally from Brazil, João holds degrees from University of Miami and Nicholls State University. He plays a 1748 G. B. Guadagnini violin generously on loan from the University of Miami Frost School of Music.
COLIN PRILLER | VIOLA
Colin Priller is a first-year master's student at The University of Miami Frost School of Music studying viola performance. He completed his undergrad at Frost with a degree in Musicianship, Artistry Development, and Entrepreneurship, where he performed numerous modern works (including frequent performances on electric violin). Playing with Ticket to the Moon—an Electric Light Orchestra (ELO) Tribute Band based in Fort Lauderdale—he loves to explore contemporary music in rock-like settings with full bands. Throughout his years at the University of Miami's Frost School of Music, Colin performed with the Henry Mancini Institute Orchestra, where he's been able to explore contemporary orchestral music. Colin is originally from Arlington Heights, IL where he learned to love modern music.
ESTHER ROGERS BAKER | CELLO
A first-year doctorate student in cello performance at the Frost School of Music, Esther is passionate about chamber music, exploratory and interdisciplinary performance, and education. For her DMA research, she is currently focusing on collaborations with dance and is developing a masters level curriculum for the study of multi-arts performance. Esther is originally from Rochester, NY and spent the previous eight years teaching in the Adirondacks.
---
With special thanks to:
Sibanye Stillwater, Sukin Series Sponsor
Don & Carol Roberts, Concert Sponsors