Sukin Series
Welcome to Indian Country
Saturday
Aug 13, 2022
7PM
406 Events Lawn
Entrance gate at 323 N 14th St.
$20 - $40
4PM – Gates open
5PM – Pretty Shield Foundation teepee demonstration
7PM – Welcome to Indian Country
Spend an evening in celebration of Native culture through music and storytelling. Rena Priest, Washington State Poet Laureate, and a diverse, world-class five-piece contemporary Indigenous music ensemble collaborate for lyrical storytelling told through song and spoken word. Together they weave new compositions and songs with witty, wise and poignant poetry and satire to honor the elders and ancestors. During the event, The Pretty Shield Foundation will erect teepees in the traditional Apsáalooke (Crow) style and host a Lighting of the Teepees event on the grounds of Red Oxx.
This project is funded in part by Humanities Montana.
Welcome to Indian Country
Welcome to Indian Country will be presented in two parts: the grounds will open to the public at 4PM in the afternoon leading up to the evening performance. The Pretty Shield Foundation will have several teepees already erected and lit in various colors approximately one week in advance along Fourth Avenue North, a busy road in east Billings that on average sees 12,000 cars a day (estimated by the East Billings Urban Revitalization District).
Then the day of, volunteers will erect additional teepees while providing insight and cultural programming around the purpose of each part of the teepee. The event will culminate with "Welcome to Indian Country" on the stage at the outdoor venue. Wood Fired Pizza by Mike Cotta and full bar at the event.
Download the digital program here.
---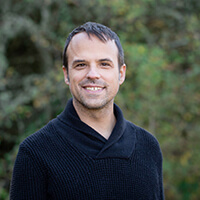 Andrew Bouchard
Andre Bouchard (of Kootenai/Ojibwe/Pend d'Oreille/Salish descent) is an internationally recognized agent, producer and consultant who was born and raised on the Flathead Reservation in western Montana the son a CSKT enrolled father and a white mother. As a person with a background in both Native and non-native worlds Andre aspires to serve as an inter-cultural activist, working to build bridges and reverse the invisibility that serves to marginalize Native people in the US. Andre's primary background is as producer of dance, theatre, music and multi-disciplinary performance but has worked in practically every roll in the performing arts since he began as an active artist and arts administrator in 1999 In 2001 he founded Walrus Performance Productions, a non-profit dedicated to providing first opportunities to choreographers, playwrights and multi-disciplinary performing artists in the Pacific Northwest. In 2010 he founded Walrus Arts Management and Consulting which was expanded in 2015 to serve as a home to the first Native run performing arts booking agency representing Indigenous dance, theatre, music and multi-disciplinary artists. In 2019 he founded Indigenous Performance Productions, a non-profit company dedicated to production of touring Indigenous performing arts festivals.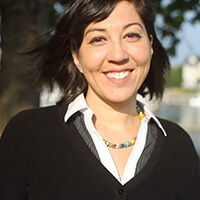 Rena Priest
Rena Priest is a Poet and an enrolled member of the Lhaq'temish (Lummi) Nation. She has been appointed to serve as Washington State's Poet Laureate for the term of April 2021-2023. She is also the recipient of the Vadon Foundation Fellowship (2020), and an Allied Arts Foundation Professional Poets Award (2020). She has attended residencies at Hedgebrook, Mineral School, and Hawthornden Castle. Her debut collection, Patriarchy Blues was published by MoonPath Press and received an American Book Award. Her second collection, Sublime Subliminal is available from Floating Bridge Press. Priest has also published non-fiction pieces in High Country News, YES! Magazine, Seattle Met, Adventures NW, and Nautilus. She is a National Geographic Explorer (2018-2020) and a Jack Straw Writer (2019). She holds an MFA from Sarah Lawrence College.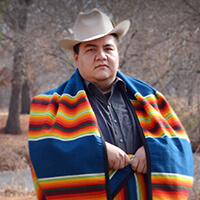 Nokosee Fields
Nokosee Fields(Osage) was born and raised in Stillwater, Oklahoma, studying orchestral violin at a young age. After years of learning and performing Classical music, Nokosee turned his attention to traditional American music, performing, teaching, and touring professionally. As a bassist, he tours with the Country band Western Centuries, as well as the old time band Steam Machine. As a teacher, he has taught at the Augusta Heritage Center, tutored at Centrum's festival of American fiddle tunes, and was the artist in residence for the Portland old time gathering. He's placed in numerous fiddle contests and most notably took first in the 2019 Clifftop Fiddle Competition. Nokosee's lengthy and diverse experience in the performing arts gives him a unique approach to creating, listening and facilitating music.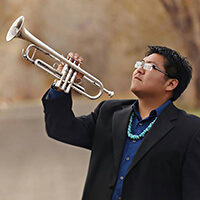 Delbert Anderson
Delbert Anderson, Diné, (Navajo) Director to Welcome To Indian Country is enjoying a music career as one of today's most forward thinking artists. Recording, touring, community outreach, music educational workshops, composing/arranging and guest appearances keep Anderson busy not only in his hometown of Farmington, NM but worldwide. Anderson has been featured on JazzTimes, Grammy.com, NASA, NPR Music Top 10, Smithsonian Magazine, Yahoo/Mic.com, TEDx, PBS, FNX Television and much more. Anderson has also been awarded the 2021 Presenters Consortium for Jazz Award from Chamber Music America funded by the Doris Duke Charitable Foundation, 2021 Jazz Road Creative Residency from South Arts funded by Doris Duke Charitable Foundation and the Andrew W. Mellon Foundation, 2021 Emerging/Leaders of Color Program from Western States Arts Federation and the 2019 Native Launchpad Award by Advancing Indigenous Performance with Western Arts Alliance.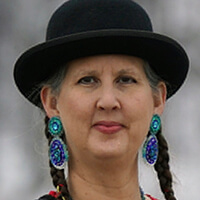 Lyz Jaakola
Lyz Jaakola, is an enrolled Fond du Lac Band of Lake Superior Tribal member who intertwines making art, music and educating. Lyz has been performing/singing in various styles and venues such as traditional women's hand drum circles, blues bands, and jazz stages in Midwest performances while also teaching at Fond du Lac Tribal & Community College. A reservation-based performer, Lyz is very busy parenting 3 wonderful children, a Native Nation Rebuilder, and has received recognition as Arrowhead Regional Arts Council George Morrison Artist Award, AICF Faculty of the year, Ordway's Sally Award for Arts Educators, and First People's Fund Community Spirit Award. Lyz will be the first to say that any honors and recognition belong to our ancestors for all they have endured and retained so that we may be Anishinaabe.
Mali Obomsawin
Mali Obomsawin is a bassist, singer, composer and songwriter from Odanak W8banaki First Nation. With an eclectic background in jazz & creative music, American roots & folk, and indie rock, Obomsawin carries several music traditions. A Smithsonian Folkways Recordings artist, Mali has toured internationally, receiving acclaim from NPR and Rolling Stone and several Boston Music Awards nominations with her band Lula Wiles. She frequents the folk & roots circuit as both frontwoman and sidewoman, appearing at Newport and Philly Folk festivals, and performs as a bassist & singer in the jazz and creative music scene with the likes of Bill Cole, Taylor Ho Bynum, Peter Apfelbaum and Delbert Anderson. In 2020 she joined Welcome to Indian Country, an Indigenous Performance Production featuring six leading Indigenous artists in Jazz and roots music. In fall 2021 she launched her first project as a bandleader with her suite for sextet, Sweet Tooth, exploring concepts of Indigenous identity, colonization and resistance.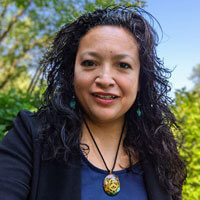 Christine Bartyzal
Christine Bartyzal is an enrolled member of the Crow Creek tribe representing the Oceti Ŝakowiŋ (7 Council Fires) of the Dakhóta Nation. Born in Sisseton, South Dakota and raised in Minnesota, Christine studied concert band clarinet at a young age and performed from elementary school throughout high school and beyond. With a deep-rooted love for all things music, Christine taught herself to play guitar and drums which lead to her forming, writing music for and performing with several rock bands within the Twin Cities metro area of Minneapolis and Saint Paul, Minnesota. A few highlights include being featured in a public television documentary, performing with her band Les Speedos in Nantes, France and bringing awareness to Indigenous people having a place in music and performing arts. Currently, Christine plays percussion for a rock band called Pretendians. Despite the name, Pretendians is a Native American rock band whose songs have societal and political influences with views from a modern Indigenous perspective.