Global talent Chee-Yun (and her 345 year-old violin) to perform in Billings Oct. 15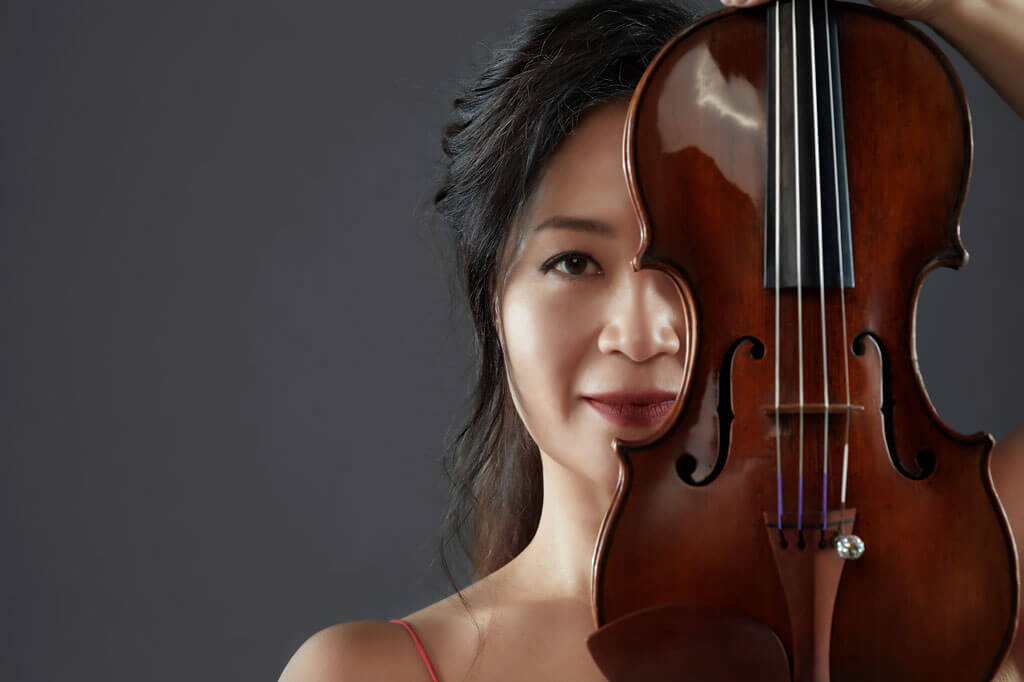 There's a reason why the only violin concerto Jean Sibelius wrote is still celebrated almost 120 years after its final draft. It's exquisite, intense, and complex, written by a composer driven to perfection.
The piece has met its match.
With flawless technique, dazzling artistry, and breathtaking sound, Violinist Kim Chee-Yun will play Sibelius's Violin Concerto with the Billings Symphony at the Alberta Bair Theater on Saturday, Oct. 15.
"It's passionate, powerful, and compelling and it demands a lot from a violinist as well as the orchestra," Chee-Yun said. "I love it. It's one of those pieces that people relate to and can connect with."
The Finnish composer's violin concerto is presented in three movements: a lyrical then melancholy introduction that ends in an emotional solo violin cadenza, followed by a somber, dark second movement, and ending with a bright, folk music-inspired dance. Chee-Yun approaches it with masterful precision and wholehearted attention.
"Sibelius (Violin Concerto) was something that moved me when I first heard it," Chee-Yun said. "Not all pieces are going to do that."
Her first introduction to the piece was many years ago. Chee-Yun has been performing as a soloist since her teens and has enraptured audiences on five continents and played with many of the world's finest orchestras.
When she was a young performer, she said she was looking for excitement, loved faster pieces, and lacked the attention span she has now. These days she's drawn to slower pieces and has learned to appreciate the range of music she's come to master.
"As your experiences in life change you, you learn to slow down and appreciate different things," Chee-Yun said.
---
See Chee-Yun with the Billings Symphony on Saturday, Oct. 15.
---
Throughout almost her entire career, Chee-Yun has played a violin made by Francesco Ruggieri in 1669. She purchased the instrument when she was 21 with the help of a no-interest loan from a patron. It took 12 years to pay it off, but she counts herself lucky to own her own violin.
Though it was very clearly a Ruggieri, Chee-Yun said the violin came with very little in the way of authentication of ownership and hadn't been played by anyone in many, many years. It was in nearly perfect condition.
In 2013, she came to discover why her violin may have had a 200-year gap in its history. After a concert in Eilat, Israel, Chee-Yun was taking questions from the audience and one man asked, "Tell me about your violin?"
Later, the man shared that his father was a violin collector who "often wondered about your violin." The father believed it was buried with its owner in Scandinavia. The idea is not beyond the realm of possibility, as it was fashionable in that day to be buried with your most prized possessions.
"I'm so glad it's in good hands now," the man said to Chee-Yun. "Please take good care of it."
Chee-Yun's violin has its own following and has been featured in the Washington Post, and in a short documentary. Regardless of its intriguing history, Chee-Yun loves it for its sound.
"Every time I play my instrument, I am so grateful and so amazed by the sound," Chee-Yun said. "At the beginning of the second movement (of Sibelius Violin Concerto) if you close your eyes, you will not be able to tell whether I'm playing the violin or the cello. I love that dark deep voice of my violin."
On the other end of the register, her violin is equally well-rounded.
"It's bright but never piercing," she said.
Chee-Yun calls Dallas home, but has roots in New York City, where she has family and many friends. She loves to travel, which is a good thing considering her concert schedule, and when she's not headed to a performance, she's catching a flight to visit friends and family across the U.S. and abroad. Chee-Yun is Korean-born and plays in her home country several times a year.
Over the years, Chee-Yun has held numerous faculty positions and continues to offer master classes as time allows. While a long and accomplished career may lead some to burnout, Chee-Yun is soaring.
"I'm more in love with music than ever," she said.
---
This concert is part of the Billings Symphony's Classic Series, featuring seven performances at Alberta Bair Theater and also includes a performance at Faith Chapel of Rodgers & Hammerstein's classic South Pacific. Become a subscriber today!
---
Article written by Laura Baily, a storyteller with two decades of experience in journalism and freelance writing. Laura lives in Red Lodge, where she shares her everyday adventures with her husband, seven-year-old daughter, and two dogs.
The Ultimate At-Home Experience Enjoy a night of wine, charcuterie, and live music-all from the comfort of your home! Grab a virtual ticket to get 4 personal 3oz bottles, a…
Read More