Classic Series
American Kaleidoscope
Saturday
Sep 24, 2022
7:30PM
Alberta Bair Theater
2801 Third Ave. N.
$15 - $66
Kevin Cole, piano
George Gershwin | Porgy and Bess: A Symphonic Picture & Rhapsody in Blue
Jennifer Higdon | Cold Mountain Suite (Montana premiere)
Leonard Bernstein | On the Town: Three Dance Episodes
Hailed "the best Gershwin pianist in America today" (Chicago Tribune), Kevin Cole is at the keys for the iconic Rhapsody in Blue. The BSO dives into the Great American Songbook to perform music from Porgy and Bess and On the Town. Rounding out this celebration of the American Classical Sound is the Montana premiere of Jennifer Higdon's Cold Mountain Suite.
Kevin Cole is widely recognized as the nation's top performer of Gershwin's work and of the classic American songbook from the 1920s and '30s. He delights audiences with a repertoire that includes the best of 20th century American music. He is regarded as the foremost interpreter of Gershwin compositions according to members of the Gershwin family, Howard Reich of The Chicago Tribune, Gershwin biographer Ed Jablonski, and composer Hugh Martin to list only a few who share this opinion.
"When Cole sits down at the piano, you would swear Gershwin himself was at work…Cole stands as the best Gershwin pianist in America today."
– Howard Reich, Arts Critic, Chicago Tribune
"Kevin is the best Gershwin pianist since Gershwin himself – no one can touch him."
– Edward Jablonski, Author, The Encyclopedia of American Music
Catch our interview with Kevin Cole at blog, Big Sky Sounds >>>
---
Big Sky Blend featuring Kevin Cole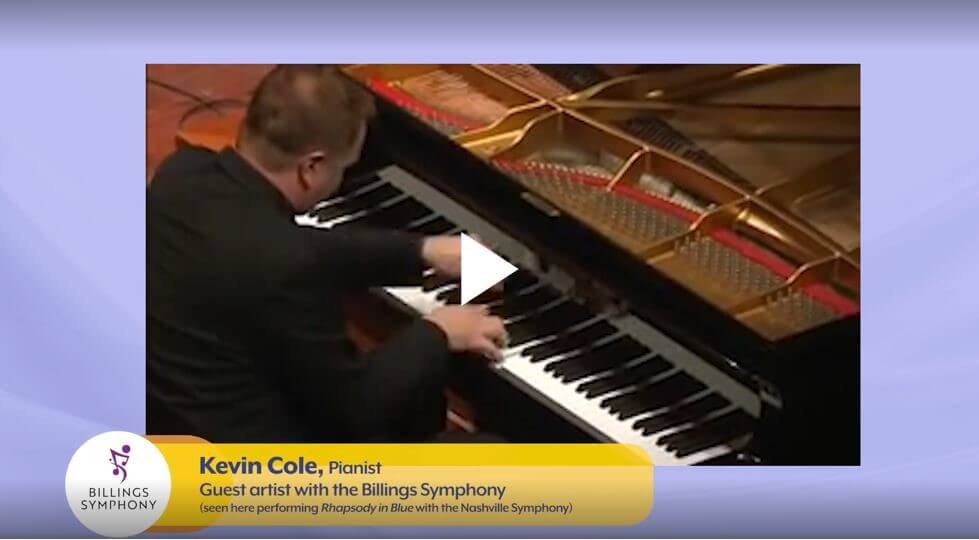 WATCH KEVIN COLE ON BIG SKY BLEND >>>
It has been said that it's impossible to play George Gershwin's "Rapsody in Blue" exceptionally, unless you love it. If that's true, the love abounds when Kevin Cole is at the keys. Kevin is America's foremost Gershwin interpreter and has studied the great American composer his entire career.
When Kevin was 7 years old, his parents let him stay up late to watch the movie, "Rhapsody in Blue," a biography of George Gershwin, which kicked off a love of Gershwin's music that spans a lifetime.
Learn more on the Big Sky Blend featuring Kevin >
---
PROGRAM NOTES
American Kaleidoscope
SATURDAY, SEPT. 24, 2022 | 7:30PM
ALBERTA BAIR THEATER
Anne Harrigan, Vincent W. & Janet M. Carpenter Music Director
Kevin Cole, piano
National Anthem
Francis Scott Key (1790–1843)
On the Town: Three Dance Episodes
Leonard Bernstein (1918–1990)
The Great Lover Displays Himself
Lonely Town: Pas de deux
Times Square: 1944
Porgy and Bess: A Symphonic Picture
George Gershwin (1898–1937)
Arr. Robert Russell Bennett (1894–1981)
Intermission
Cold Mountain Suite
Jennifer Higdon (1962– )
Montana/Mountain Time Zone Premiere
Commissioned by New Music for America and a consortium of 37 U.S. orchestras
including the Billings Symphony
Rhapsody in Blue
George Gershwin (1898–1937)
Orch. Ferde Grofé (1892–1972)
Kevin Cole, piano
Porgy and Bess: A Symphonic Picture
George Gershwin (1898–1937)
Robert Russell Bennett, arranger (1894–1981)
Not many musical classics have elicited the sort of polar-opposite reactions from audiences and critics that Porgy and Bess has since its Broadway debut in 1935. Featuring some of the most recognizable songs in all of American music, the opera has been both praised as a bold attempt to exalt African-American dialect in the operatic canon, and castigated as a patronizing, if not outright racist, caricature of black life in the South in the early 20th century. Despite its controversial background, Porgy and Bess occupies an important place in the social evolution of our country. Its premieres in Charleston, South Carolina, where the story is set, and Washington, D.C. were desegregated on the stage and in the audience for the first time in the histories of those cities.
Based on DuBose Heyward's 1925 bestselling novel, Porgy, the opera tells the story of Porgy, a disabled black beggar living in the fictional Catfish Row slum, and his attempts to rescue Bess from the clutches of Crown, her violently possessive lover, and Sportin' Life, the drug dealer. Gershwin's self-proclaimed "labor of love" melds classical technique with jazz, pop, and folk themes and rhythms.
A few years after Gershwin's death, conductor Fritz Reiner commissioned Robert Russell Bennett, the dean of American Broadway arrangers, to prepare an orchestral synopsis of Porgy and Bess. From its atmospheric opening, with snatches of Stravinsky and Ravel, to the handling of Gershwin's famous tunes, this is a masterful arrangement and since its premiere on February 5, 1942 with Reiner conducting the Pittsburgh Symphony Orchestra, A Symphonic Picture has become the most popular version of the music from Gershwin's opera.
Music from George Gershwin's folk opera has appeared on fifteen Billings Symphony programs, with Robert Russell Bennett's two medleys—tonight's A Symphonic Picture and the shorter Selections—being the most popular choice for conductors at four performances each.
---
Rhapsody in Blue
George Gershwin (1898–1937)
Ferde Grofé, orchestrator (1892–1972)
In 1923, Paul Whiteman, the King of Jazz (just ask his publicist!), decided he should try to bring some respectability to jazz music, so he scheduled a concert performance by his dance orchestra at Aeolian Hall in New York on February 12, 1924. He asked several popular composers to write works especially for the concert, casually mentioning the project to George Gershwin when it was in its early stages. The promising young composer for Broadway and Tin Pan Alley thought it might be an interesting idea and suggested that Whiteman could contact him later when his plans were more concrete.
That was the last Gershwin thought of the matter until he read a newspaper item in early January 1924 reporting that he was composing a jazz symphony for Whiteman's concert. With the concert was less than a month away and Gershwin was just about to begin the out-of-town tryouts for a new show, he quickly called Whiteman to say that he couldn't possibly complete such an ambitious project. Whiteman persisted until, instead of a symphony, Gershwin finally agreed to compose a rhapsody for piano and jazz orchestra. He would write a two-piano score, and Whiteman's chief arranger, Ferde Grofé (composer of last season's Grand Canyon Suite), would transcribe the second piano part for the Whiteman band.
The concert program was long and not very stimulating until the next-to-last number (best position on the bill, according to vaudeville tradition) when the exciting clarinet glissando that opens the Rhapsody in Blue brought everyone awake. Gershwin improvised some of his part, indicating in the conductor's score, "Wait for nod." The piece was a triumph, and it catapulted Gershwin into the world of serious music where he enjoyed a successful—but far too short—career parallel to the one he had already begun on Broadway.
The Billings Symphony has performed what Gershwin considered his "sort of musical kaleidoscope of America" five times previously. The above notes are based on former librarian Jeffrey M. Edgmond's notes for the November 2003 performance with pianist Eleanor Perrone.
---
Cold Mountain Suite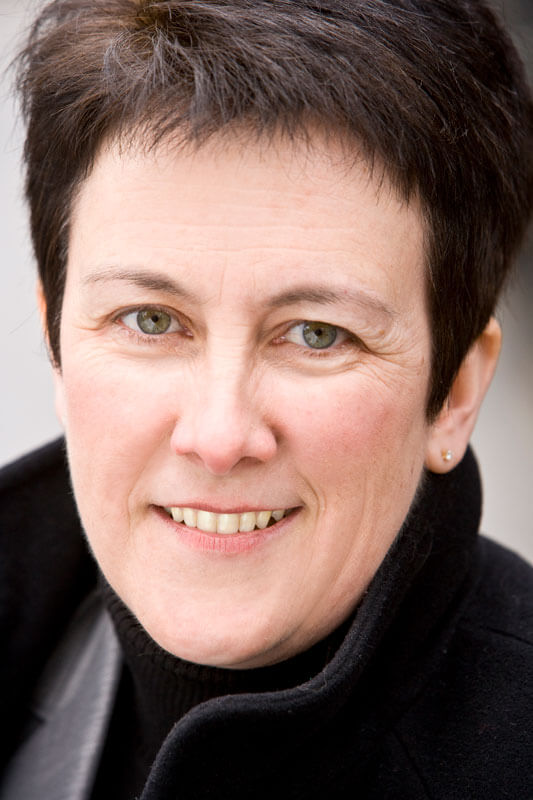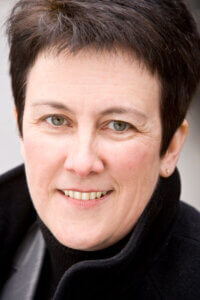 Jennifer Higdon (1962– )
Jennifer Higdon is one of America's most acclaimed figures in contemporary classical music, receiving the 2010 Pulitzer Prize in Music for her Violin Concerto, a 2010 Grammy for her Percussion Concerto, a 2018 Grammy for her Viola Concerto and, most recently, a 2020 Grammy for her Harp Concerto. Higdon's first opera, Cold Mountain, won the International Opera Award for Best World Premiere and the opera recording was nominated for two Grammy awards. In 2018, Higdon received the prestigious Nemmers Prize from Northwestern University which is awarded to contemporary classical composers of exceptional achievement who have significantly influenced the field of composition. Most recently, she was inducted into membership in the American Academy of Arts and Letters. Higdon enjoys several hundred performances a year of her works and her works have been recorded on more than seventy CDs. Her music is published exclusively by Lawdon Press.
---
On the Town: Three Dance Episodes
Leonard Bernstein (1918–1990)
Leonard Bernstein burst on the national consciousness in November 1943 when he stepped in on short notice—with no rehearsal—to conduct a nationally broadcast concert by the New York Philharmonic. The following April, the New York Theatre Ballet performed Fancy Free, a short sketch of a flirtation between two girls and three sailors, with choreography by Jerome Robbins and music by Bernstein. An instant success, duo felt that the idea of sailors on leave in wartime New York might be expanded into a full-length Broadway musical.
To flesh out the story and provide song lyrics, Bernstein enlisted two friends, Betty Comden and Adolph Green, who often performed their own material in nightclubs. By the end of the year, the project was complete, and it opened in New York to generally good reviews on December 28, 1944. It ran for more than a year, quite a respectable run at that time. On the Town took only its general situation from the earlier ballet. Bernstein's music was entirely new, and the plot involved three sailors in pursuit of three girls during their 24-hour leave in New York. Much of the story was told via the show's five ballet sequences. Bernstein later took parts of three of them and expanded the original theater orchestrations to form a work for symphony orchestra.
"The Great Lover" comes from the second-act sequence in which the hero falls asleep on the subway and dreams that he is wooing "Miss Turnstiles," the subway system's beauty queen for that month. Earlier in the show, he sings a melancholy ballad, "Lonely Town," which is followed by a dance in which another sailor toys with the affections of a young girl. The last of the three orchestral episodes is the Act I Finale, in which all the sailors on leave in New York join in a boisterous dance in Times Square.
The Bernstein opened the Billings Symphony 2006–2007 season. The above program notes are based on those written by former principal librarian and timpanist Jeffrey M. Edgmond for that performance.