Classic Series
Appalachian Spring
Saturday
Feb 12, 2022
7:30 PM
Alberta Bair Theater
$18-$63
David Cooper horn
Michael Sample photography
Copland Appalachian Spring
Strauss Horn Concerto No. 2
The BSOC brings the joyful, pensive, and ebullient sounds of Copland's quintessentially American Appalachian Spring to Billings. Chicago Symphony Orchestra Principal Horn, David Cooper showcases Strauss's beloved Horn Concerto No. 2.
Check out the digital program!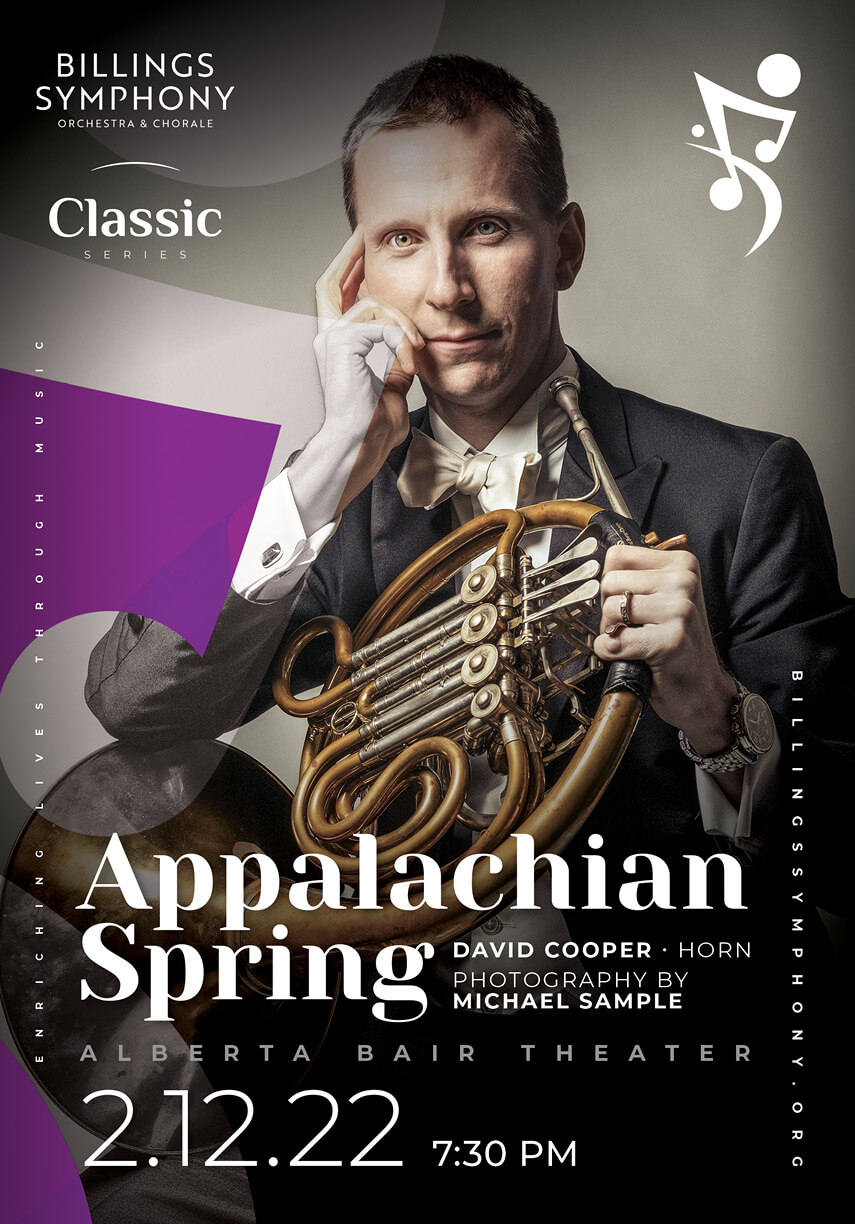 DAVID COOPER | HORN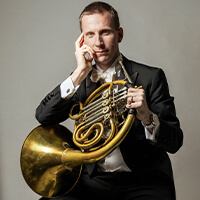 David Cooper on the tests of Strauss and his longtime passion for horn >> 
David Cooper's passion for the French horn is in his blood, with both his uncle and grandmother serving as horn players in the Lansing Symphony Orchestra. When David was only 11, he earned his grandmother's horn after proving he could play his first scale. She sent him home with a couple of Dennis Brain recordings and he has been enthralled with the horn ever since! He began his studies right away with Dr. Dale Bartlett, his Grandmother's former colleague in the Lansing Symphony. David began playing with Michigan State University ensembles when only 15 and was in the top MSU collegiate ensemble at age 16.
David attended the Curtis Institute of Music in Philadelphia from 2002 to 2004 and was awarded a Tanglewood Fellowship in 2003. Soon after school, he did a year of service as an Americorps intern with the Jefferson Land Trust in Port Townsend, Washington. David's first professional symphonic appointment was as acting Principal horn of the Victoria Symphony from 2006 to 2008. While still in Victoria, David won Co Associate Principal horn of the Fort Worth Symphony and was there from 2008 to 2011. After Fort Worth, David moved next door to the Dallas Symphony as 3rd horn in 2011. In 2013, David won Principal horn of the National Symphony in Washington D.C. but, within weeks, he was appointed Principal horn of the Dallas Symphony, where he played from 2013 to 2019. In 2016 David won the Solo horn of the Berlin Philharmonic where he played from 2017 to 2018. At the beginning of the 2018-19 season, he returned to Dallas and resumed his position as Principal horn of the Dallas Symphony Orchestra. In February 2019, David won Principal horn of the Chicago Symphony Orchestra where he currently plays. David has also played guest Principal horn with the New York Philharmonic, Los Angeles Philharmonic, London Symphony Orchestra, Philadelphia Orchestra, Hong Kong Philharmonic, and Saint Paul Chamber Orchestra. David enjoys many solo and chamber music appearances in the United States and abroad. He currently released his second solo CD "Impressions" on CD baby and it is also available on iTunes for purchase as well as all other streaming services.
Richard Strauss (1864–1949) | Fanfare for the Vienna Philharmonic
Richard Strauss built a strong relationship with the Vienna Philharmonic, which has consistently played his music since 1882. At the request of Philharmonic members, he wrote the fanfare for the organization's first benefit ball, which raised money for the musicians' pension fund. The piece—played while honored guests, such as the Matron of the Ball, arrived at the event—has been played every since at the Philharmonic's annual balls.
Brass and orchestral fanfares have appeared on BSO programs throughout the years, including James Stephenson's Fanfare for Democracy at last June's Symphony in the Park. This, however, is the first BSO performance of Strauss' iconic fanfare.
Jessie Montgomery (1981– ) | Strum
From the composer: "Strum is the culminating result of several versions of a string quintet I wrote in 2006. Originally conceived for cello quintet, the voicing is often spread wide over the ensemble, giving the music an expansive quality of sound. Within Strum I utilized texture motives, layers of rhythmic or harmonic ostinati that string together to form a bed of sound for melodies to weave in and out. The strumming pizzicato serves as a texture motive and the primary driving rhythmic underpinning of the piece. Drawing on American folk idioms and the spirit of dance and movement, the piece has a kind of narrative that begins with fleeting nostalgia and transforms into ecstatic celebration."
The Sphinx Competition is a national competition offering young Black and Latinx classical string players a chance to compete under the guidance of an internationally renowned panel of judges, and to perform with and receive mentorship from established professional musicians. As a Sphinx Orchestral Partner, the Billings Symphony is excited to perform this Jessie Montgomery work for the first time.
Richard Strauss (1864–1949) | Horn Concerto No. 2
Strauss was not in a good place when he wrote this concerto in late 1942. In addition to serious health and career concerns, he was trying to prevent the incarceration of his daughter-in-law's relatives at the Theresienstadt concentration camp. "It is hard to believe," biographer Norman del Mar wrote, "that this is the work of a depressed old man living in fear of disgrace from the authorities of a war-beleaguered country, so light and carefree a style did he capture." Indeed, barely a hint of this horrendous time is to be heard. Beyond the occasional moment that hints of darker things, the concerto exists largely in a Mozartean utopia, the hunting calls and lyrical pastoral tones that abound are perhaps an echo of an imagined past when life was more chivalrous, less complicated.
Tonight's program is a series of (mostly) first performances by the BSO. While Strauss' Horn Concerto No. 1 has appeared four times on BSO programs—the last in February 2006 with Principal Horn John Dutton—tonight is a BSO premiere for Horn Concerto No. 2.
Peter Meechan (1980– ) | Song of Hope
From the composer: "Song of Hope is dedicated to my good friend Ryan Anthony and his charity, Cancer Blows, a foundation set up to raise awareness and money to further the research that has helped give his and many other families a hope for a future following Ryan's diagnosis of multiple myeloma. In these challenging times of Covid-19, of seeing the destruction and hatred on our streets, and where love and empathy feel devastatingly lacking, the core idea of arranging this piece for flex ensemble comes directly from the message Ryan carried with him every day of his incredible battle with cancer: hope."
This is the first BSO performance of a Peter Meechan work.
Aaron Copland (1900-1990) | Appalachian Spring: Suite for Full Orchestra
Copland composed Appalachian Spring for Martha Graham, who produced, choreographed, and danced in the first performance on October 30, 1944, at the Library of Congress in Washington, D.C. The work was performed in New York the following spring, winning the Pulitzer Prize for music and the Music Critics Circle award for the outstanding theatrical work.
Copland later arranged a suite for full orchestra, omitting a few passages where the interest was primarily choreographic. The suite is played without pause, although it falls into eight sections. Copland describes each scene thus:
Very slowly. Introduction of the characters, one by one, in a suffused light.
Fast/Allegro. Sudden burst of unison strings starts the action. A sentiment both exalted and religious gives the keynote to this scene.
Moderate/Moderato. Duo for the Bride and her Intended—scene of tenderness and passion.
Quite fast. The Revivalist and his flock. Folksy feeling—suggestions of square dances and country fiddlers.
Still faster/Subito Allegro. Solo dance of the Bride. Extremes of joy and fear and wonder.
Very slowly (as at first). Transition scene to music reminiscent of the introduction.
Calm and flowing/Doppio Movimento. Scenes of daily activity for the Bride and her Farmer husband. There are five variations on the Shaker theme, familiar to many as "Simple Gifts."
Moderate. Coda/Moderato. The Bride takes her place among her neighbors. At the end, the couple are left "quiet and strong in their new house." The close is reminiscent of the opening music.
The Billings Symphony previously performed Copland's Pulitzer Prize-winning suite in 1986, 2000, and 2007. Variations on a Shaker Melody appeared on the 1975 Park concert.
Michael Scanlon Sample (1947–2014)
Michael S. Sample began work as a professional outdoor photographer in 1970 after college and military training. In 1972 he photographed and published Mike Mansfield's Montana and the following year began publishing the Montana Calendar. His book Montana on My Mind is a collection of images which celebrate the beauty, heritage, pride, and spirit of Montana. His photos have appeared in National Geographic, Outdoor Life, Sports Afield, Time, Sierra, and Montana magazines. In addition to his work as a photographer, Michael co-founded Falcon Press, a publishing house specifically for western authors and artists like himself. He served on the board for the Yellowstone Association and supported countless other local and national organizations both privately and in his role as Vice President of the Sample Foundation.
Michael treasured the natural world, and he did everything in his power to preserve it through both his photography and his philanthropy. Prior to his tragic death in June 2014, Michael worked with Anne Harrigan on a number of art and music presentations that were well received in Billings and in Michigan. The Billings Symphony thanks Michael's widow, Barbara Sample, for allowing us to reprise Michael's last collaboration, tonight's Appalachian Spring.