Friendship and serendipity bring the work of Henry Mancini to Billings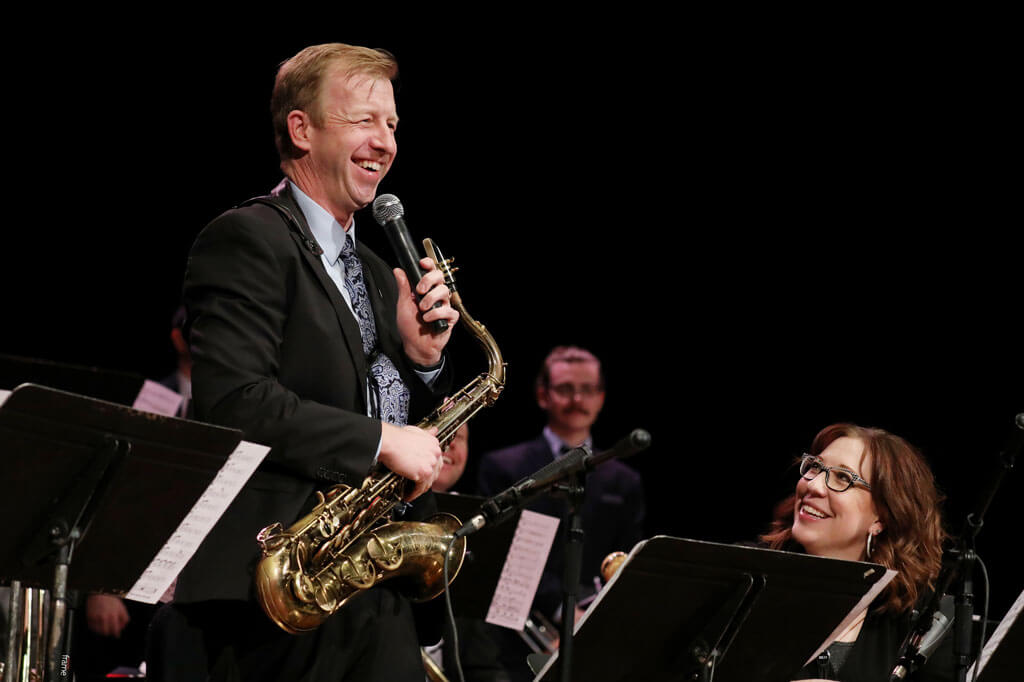 When Scott Jeppesen, founder of the Rocky Mountain Jazz Collective, met Monica Mancini, daughter of the great Henry Mancini, he never could have known that he would one day be bringing Henry Mancini's music to Billings, but like every instance of serendipity, there's always a little nudge from the universe.
Jeppesen met Monica Mancini when he lived in Los Angeles and was working on a Burt Bacharach tribute show, starring Monica Mancini on vocals and her husband Gregg Field on percussion. Monica sang, "Say a Little Prayer for Me," a Burt Bacharach favorite, which Jeppesen arranged.
"Monica killed it," Jeppesen said remembering the performance. "She's such a great singer."
Years later, they worked together again for a star-studded Ella Fitzgerald tribute, and over time, a friendship developed. Jeppesen moved to Billings five years ago to join the faculty at Montana State University Billings, and while Jeppesen was working on Cole Porter tribute project two years ago, he called Field for some advice. At the end of the conversation Field said that if Jeppesen ever wanted to pull together a Henry Mancini tribute, they'd honored to have Jeppesen arrange Mancini's music.
"When you get an invite like that, you schedule a Mancini show," Jeppesen said.
The Rocky Mountain Jazz Collective's upcoming performance at 7PM on Saturday, Sept. 10 at the Babcock Theater will showcase Mancini's work, arranged by Jeppesen. The songs will sound both familiar and new to the ear.
"You take something Mancini wrote, and it's so incredibly well-known that as an arranger you have to do it in such a way that pays respect to this master's work," Jeppesen said.
Jeppesen will play in the big band show, along with 17 other musicians including several locals, a few of Jeppesen's students, and some well-known jazz players from across the country.
"We will play around with a lot of different sounds," Jeppesen said.
The legendary Henry Mancini
Mancini was one of the most prolific composers of music for film and wrote more than 200 compositions for movies and television series, he won four Academy Awards, a Golden Globe, and 20 Grammy Awards. Mancini often used jazz elements in his music, which shaped a generation of moviegoers.
Jeppesen was one of them. His first exposure to classical music was through movies, and his interest in film and the scores behind the silver screen continued to expand as he grew older. He played saxophone in the middle school jazz band, and in high school started listening to early recordings of classical jazz from the 40s, 50s, and 60s.
"That's where my heart really lies—in that style," he said.
He studied music at the University of Southern California and made a way for himself in the L.A. jazz scene where he became known for his original jazz compositions and arrangements of jazz classics. After making his way to Billings, Jeppesen saw an unfilled niche and launched the Rocky Mountain Jazz Collective in 2019.
"I realized that while Billings has a really good jazz scene, there wasn't a real jazz orchestra or big band in Billings," Jeppesen said. "I felt like Billings deserved a good big band, and I saw it as an opportunity to continue my writing."
Rocky Mountain Jazz Collective's first few concerts proved Jeppesen's theory that Billings was ready for big band jazz. Despite the damper of the pandemic, fans turned out to support the new venture.
"Our vision for the ensemble is for every concert to pick a composer, an era, or an album that is of historical significance in American music and play in a jazz big band style," Jeppesen said. For this concert, the music Mancini wrote for the movie Hatari starring John Wayne and set in East Africa will be performed, showcasing African styled drumming.
The concert takes place at 7PM Saturday, Sept. 10 at the Babcock Theatre, 2810 Second Ave. N. Tickets are available at the door or in advance at billingssymphony.org or by calling (406) 252-3610. Another, Rocky Mountain Jazz Collective: Sinatra at the Sands, is scheduled for May 20, 2023 and features Darren Small on vocals. Stay tuned for details on that show, and purchase tickets for the Mancini show using the link below.
---
Article written by Laura Baily, a storyteller with two decades of experience in journalism and freelance writing. Laura lives in Red Lodge, where she shares her everyday adventures with her husband, daughter, and two dogs.
BILLINGS, MT, November 13, 2023— The Nutcracker Ballet, the time-honored classic that has delighted audiences for generations, returns to Billings for its most highly anticipated performances yet. Featuring the exceptional…
Read More