Have you heard? 'Billings Symphony Live' features concerts on YPR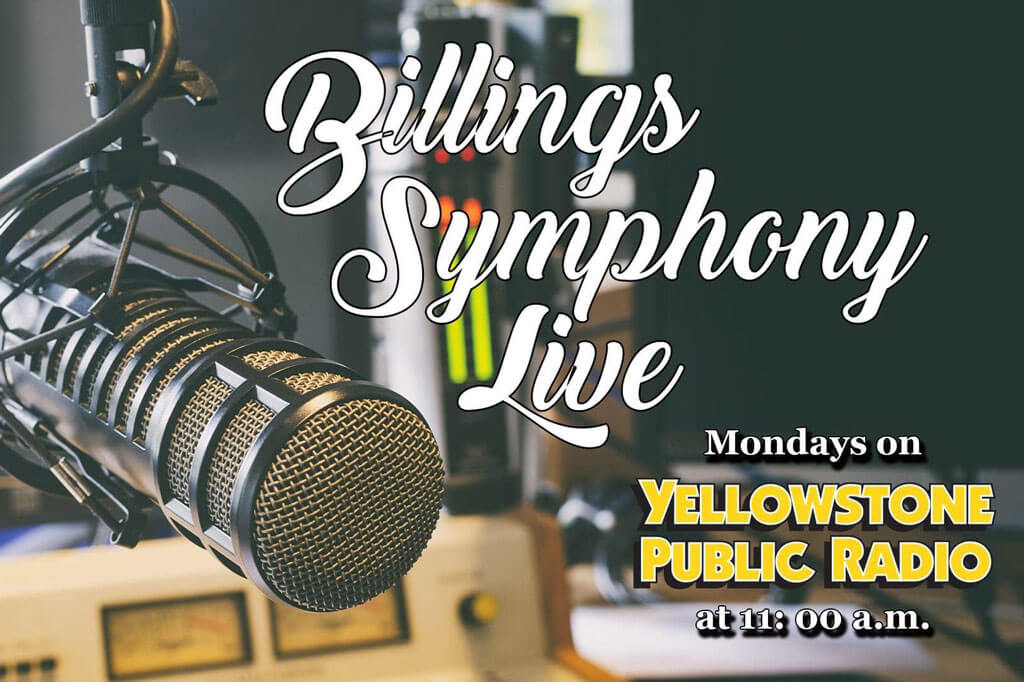 Billings Symphony Live is back on Yellowstone Public Radio! The hour-long weekly program highlights the best of the Billings Symphony, produced and narrated by Ken Gilstrap.
Due to copyright on certain pieces of music, these programs can only be heard LIVE on Yellowstone Public Radio. Tune in at 11AM each Monday to get your weelky dose of Billings Symphony.
NEW SHOWS FROM THIS SEASON!
Airing Monday, August 29, 2022 at 11AM MST 
Bach Orchestral Suite No.3 – Air and Gavottes I and II (recorded live April 2022)
Beethoven Symphony No. 9 mats. 2,3 4 (recorded live April 2022)
 Airing Monday, August 22, 2022 at 11AM MST
Rossini – William Tell Overture (recorded live April 2022)
Rodrigo – Concierto de Aranjuez – featuring Rafael Aguirre (recorded live October 2021)
Williams – Star Wars – performed by Rafael Aguirre (recorded live October 2021)
Beethoven – Symphony No. 9, mvt 1 (recorded live April 2022)
Airing Monday, August 8, 2022 at 11AM MST
R. Strauss – Fanfare for the Vienna Philharmonic (recorded live February 2022)
Prokofiev – Peter and the Wolf (from the 2022 Family Concert)
Meechan – Song of Hope (recorded live February 2022)
R. Strauss – Horn Concerto No.2 (recorded live February 2022)
Airing Monday, July 18 at 11AM MST
Copland – John Henry (from 2022 youth concert)
Copland – Appalachian Spring (recorded live February 2022)
Rachmaninoff – Rhapsody on a Theme of Paganini w/ Gabriella Martinez (recorded live September 2022)
Airing Monday, July 11 at 11AM MST
Mussorgsky – Pictures at an Exhibition w/ Gabriella Martinez (recorded live Sept. 2021)
Granados – Intermezzo
Falla – The Three-Cornered Hat Part I
Ginastera – Malambo from Estancia
BILLINGS, MT, November 13, 2023— The Nutcracker Ballet, the time-honored classic that has delighted audiences for generations, returns to Billings for its most highly anticipated performances yet. Featuring the exceptional…
Read More