World premiere of 'American Veteran: A Story Without Words' to showcase Billings Veterans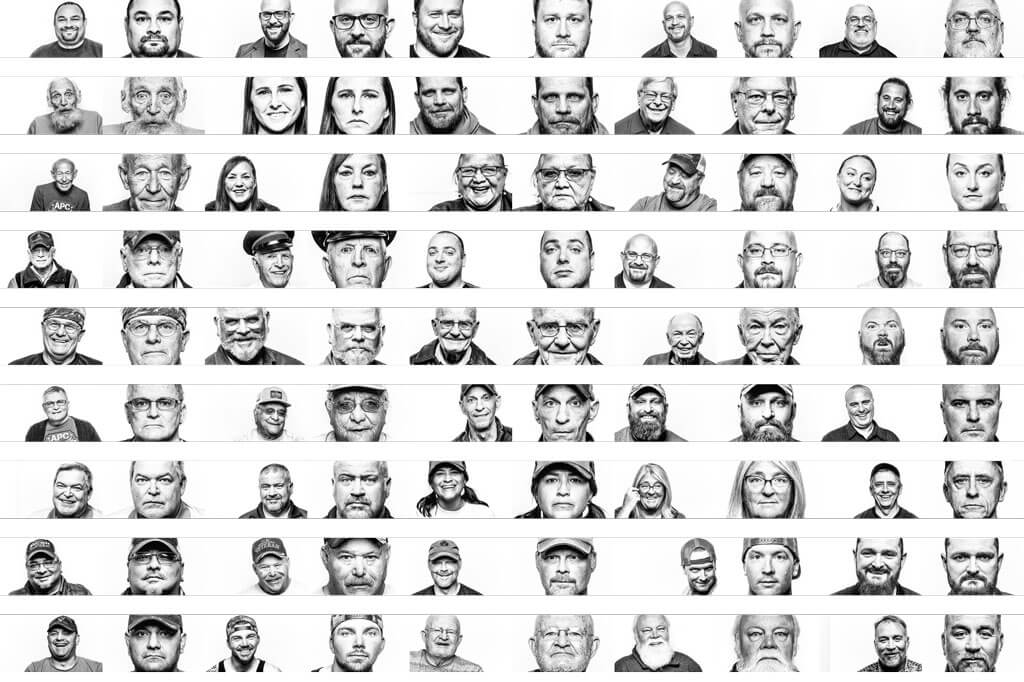 When Photographer Marcus "Doc" Cravens makes a portrait, he asks his subject to tell him a story. He's developed an eye for emotion, and when the moment is right, he captures a smirk, a pensive stare, a hearty laugh, a flicker of joy, a memory of loss, or a faraway look of contemplation.
This past year, Cravens has spent time in Billings photographing local veterans, and their collective stories have become part of American Veteran: A Story Without Words. The project, commissioned by the Billings Symphony, is a collaboration between Cravens and Montana Composer Ilse-Marie Lee, and makes its world premiere on Saturday, Nov. 12 at the Alberta Bair Theater.
"I really want the audience to be fully surrounded by the depth of emotion," Lee said. Cravens' black and white images of veterans will be shown above the orchestra as the music plays. "It will become an artifact of our time and an artifact of Billings and an artifact of our community."
The performance includes Haydn's Trumpet Concerto, performed by Chicago Symphony trumpeter Tage Larsen, and Mozart's Symphony No. 40. Critically acclaimed conductor Katharina Wincor will lead the orchestra.
Larsen is an accomplished trumpet player who has played with the Dallas Brass Quintet, the "President's Own" U.S. Marine Band, the Annapolis Symphony Orchestra, and the Chicago Symphony. He's currently an instructor in applied performance trumpet at DePaul University School of Music in Chicago.
---
TICKETS & MORE INFO FOR AMERICAN VETERAN: A STORY WITHOUT WORDS >>
---
Wincor lives in Austria and made her debut with the Dallas Symphony Orchestra in 2021, conducting works by Mendelssohn, Schubert, and Anna Clyne, followed by appearances at the Grafenegg and Gstaad music festivals. She has worked with many world-renowned orchestras including the Danish National Symphony, Bamberger symphony and the City of Birmingham Symphony Orchestra and has received a prestigious Neeme Järvi Prize for her conducting.
The seeds for American Veteran: A Story Without Words were planted several years ago, when Cravens was working on his senior thesis at Montana State University, photographing Bozeman veterans. Lee, who is the Dean of the MSU Honors College, saw one of Cravens' exhibitions and was struck by the vulnerability of the veterans in the images. After getting to know Cravens better, she suggested a collaboration.
Lee is familiar with the collaborative, creative process. She has composed several film scores, and this year, she's taken a break from her position at MSU to work on special projects. American Veteran: A Story Without Words is one of them.
Cravens attended MSU after leaving the Navy in 2013. He was a combat medicine corpsman and served with the Marines in war zones overseas. He said he never expected to be photographing veterans, but the project has proven to be cathartic. For his initial project, Cravens photographed 100 Bozeman veterans of all ages and from all branches of the U.S. Armed Forces.
"Something clicked that I didn't expect, and that was the connection with the public," Cravens said. "It wasn't so much about the veterans in the photos it was about the community."
The images give the viewer a glimpse into the life of a person who could be their brother, sister, son, daughter, father, grandfather, neighbor, or that favorite uncle. For many people, it brought down a barrier and allowed them to start a conversation with the veterans they knew.
"These are our veterans," Cravens said. "My goal in all of this is to encourage those conversations between veterans and the community."
Cravens will  bring that conversation to Billings on Nov. 12. He photographed 100 veterans for the project and hopes that the performance of America Veteran: A Story Without Words sparks a communitywide conversation with veterans.
"We are more than what is on the news. We are more than PTSD and the other labels we have," Cravens said.
That connection and appreciation has also been sparked in Lee. She was born in South Africa and is a naturalized citizen of the United States. She's patriotic and especially grateful to veterans for their service. American Veteran: A Story Without Words strikes a deep chord in her heart.
"I'm inspired by the depth of expression that music can give," she said. "Music is an inward portal to our soul."
The Ultimate At-Home Experience Enjoy a night of wine, charcuterie, and live music-all from the comfort of your home! Grab a virtual ticket to get 4 personal 3oz bottles, a…
Read More