Muralist Elley Swan unveils newest public work of art during Friday's ArtWalk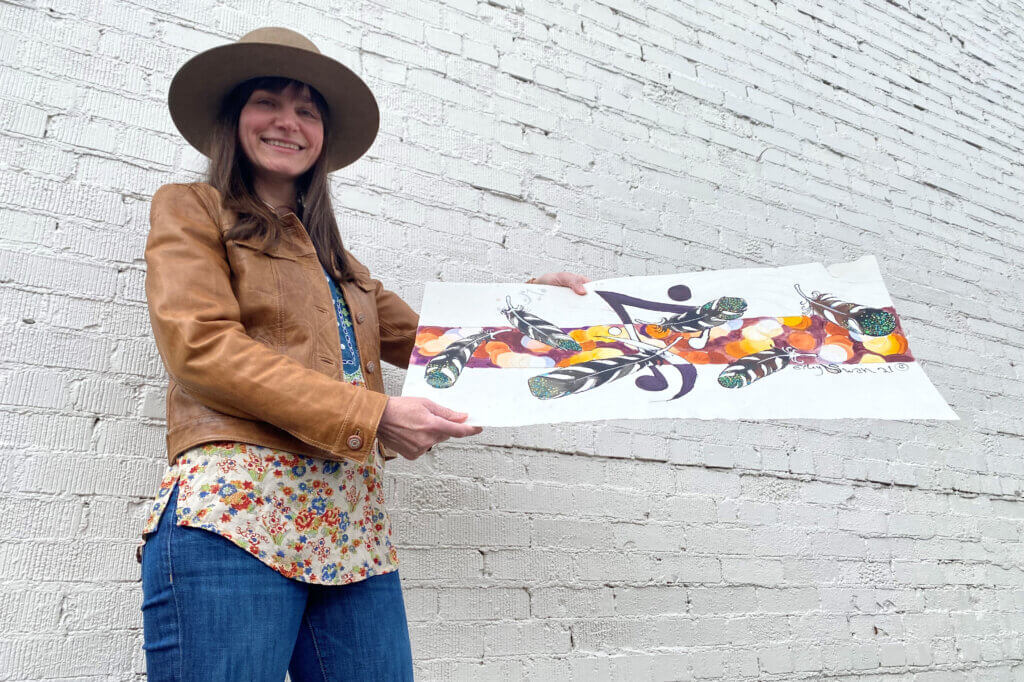 Elley Swan describes herself as a "reluctant muralist." She didn't set out to paint large-scale works of public art, but after the success of her first mural in 2018 at Montana Audubon Education Center, she developed an appreciation for the process.
"You are not just sitting in your jammies in your house painting," she said. "They are like exercise."
Swan's latest work of art is 60 feet long and more than 10 feet tall, visible from First Avenue North on the south-facing wall of Sassy Biscuit. The Billings Symphony commissioned the mural, funded in part by a Space2Place placemaking grant from Big Sky Economic Development. Swan's work will be celebrated Friday, June 3 during the spring ArtWalk, which will include a ribbon cutting ceremony with Mayor Bill and Anne Cole, who helped fund the project.
"I begin with one idea of what is going to happen and life just kind of does its own thing," Swan said.
The push to bring more public art downtown was the impetus for the mural. "When we moved to this location, it was important to us that we provide public art, landscaping, and beautify the corner," said Brad Constantine, general manager of the Billings Symphony.
In 2019, the Sukin family gifted the Billings Symphony their building on the corner of Second Avenue North and North 29th. The vacant storefront at 2820 Second Ave. N. was transformed in 2020 into the Billings Symphony office with conference room and performance space accessible to the community.
"People appreciate their city more when there's public art," said Swan. "I'm glad to be part of painting something that helps with beautification."
For the mural on the Billings Symphony building, Swan crafted an ode to music and incorporated her love of birds—specifically the ocellated turkey, which has incandescent feathers that have become her go-to in paintings inspired by the natural world.
"The feathers are softly blowing in the wind, like musical notes," said Swan, but acknowledges she doesn't overthink her subject matter. "When I paint—it is not necessarily symbolic. To me sometimes the creating art is the most fun."
Swan added dimension to the work with painted circles and soft vignettes that add depth, softness, and movement. Her love of birds and fish is repeated throughout her work, depicting the intricate details of scales, fins, barbs, and quills.
"I love birds. They are a theme that I can't get away from. And fish are just another form of movement—glistening silver torpedoes in the water," she said.
Swan has collected bird feathers since she was young. "They are a part of something that is whole, but a feather itself is so full of its own uniqueness. They are all different."
Born in Red Lodge to artistic parents (her father was an oil painter and her mother worked with watercolors), Swan and her siblings grew up in a rugged home without plumbing, near Belfry on the Clarks Fork.
"I was a river child," she said. "We were all just wild." She would take bones and skulls she found along the banks of the Yellowstone River. "They were so bright white, and just needed some paint on them.
Swan had an affinity for bright colors and painting, and in high school decided she "wanted to grow up and be an artist."
"I never went to school for art, I just painted," said Swan. "It takes a long time. You first start painting how people tell you to paint. But, then you paint like everyone else. It takes time to know what you like to paint and your own style. Then you are painting for yourself."
---
The Billings Symphony would like to thank all who helped to make this mural a reality, including Elley Swan; Bill and Anne Cole; Big Sky EDA and the Space2Place granting program; the Downtown Billings Alliance team (special shout-out to Mehmet Casey and Joe Stout!); Zack Terakedis; Diane Boyer Jerhoff; Rob Morehead; Big Sky Exterior Designs; Jase Norsworthy; Montana State University Billings baseball team; Derek Waddoups; and Ryan Swan.
The Ultimate At-Home Experience Enjoy a night of wine, charcuterie, and live music-all from the comfort of your home! Grab a virtual ticket to get 4 personal 3oz bottles, a…
Read More